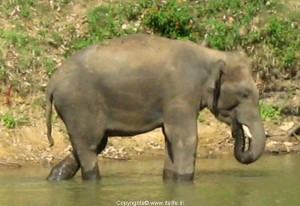 Villagers in Kerala, have displayed a grand gesture by vacating their agrarian village for elephants because it is a vital elephant corridor. To support the 63,000 elephants roaming in the parts, the villagers have opted for resettlement.
The vacating of their ancestral homes, by the villagers of Pulayankolly is a vital step forward in securing the Tirunelli-Kudrakote (or Wayanad) Elephant Corridor. The move was facilitated by Kerala Forests and Wildlife Department, Wildlife Trust of India (WTI) supported by the UK-based charity Elephant Family in collaboration with the local government.
The residents of this village, 15 families in all, will now be living in an alternative site in Chekkadi and will be provided a home and a land. The move was made in discussion with them and considering the need for healthcare, livelihood, education and civic amenities.
"Chekadi is located near the town and helps them access education and healthcare and open up more job opportunities, previously unavailable due to their location in the forest," said Dr Sandeep Tiwari, Head of Wild Lands Division, WTI. "The voluntary relocation is also beneficial to the locals and animals as it mitigates chances of conflicts."
This particular elephant corridor is a vital route connecting the Brahmagiri Wildlife Sanctuary in Karnataka with Wayanad Wildlife Sanctuary and North Wayanad Forest Division in Kerala leading through Nagarahole National Park, Bandipur and Mudumalai Tiger Reserves up to Coimbatore Forest Division. The present village is the fourth in the route to give up their land for the elephants.
"The entire initiative is praiseworthy," said Raja Raja Varma, IFS, PCCF and Chief Wildlife Warden, Kerala. "It has been implemented speedily by the NGOs with much care and consideration."
Reduced Human-Elephant Conflict
In the entire country the number of incidents of wars between man and beast over common lands is increasing. In the elephant abundant forests of North-East and South India the aftermath of the conflict is damaging at both ends. 400-450 human lives and crops worth millions of rupees are lost to human-elephant conflict. On the other hand the Retaliatory killings are lowering elephant numbers. This adds to the threat the pachyderms constantly feel from poachers.
Human population in many vital forest areas and corridors has resulted in elephant population fragmentation and restriction in a particular isle, cutting off their food sources and reducing their genetic diversity. The network of habitats is joined together by the corridors and is an important way by which elephants survive.
If humans therefore leave this corridor for the animals, it is an immense step to show that humans and animals can share the common grounds and live in peace.
"The corridor securement and relocation programme fills me with immense hope and stands as a role model showing that space can be made for the co-existence of both people and animals in a country like India where conflict between elephants and people is mounting and extreme," said Dan Bucknell, Head of Conservation and Campaigns, Elephant Family. Elephant Family was also aided by Nando Peretti Foundation, Italy, for Pulyankolly relocation efforts.
It is an example well set for other regions of India where conflicts between man and beast are often ending violently.
Related Stories:
Raised by Humans Elephant now part of Wild Herd
Villagers in Madhya Pradesh Save Forest from Lime Kiln Owner
Tribesmen Hand-raise Orphaned Baby Grizzled Giant Squirrels
Article reference: Wildlife Trust of India
(Visited 280 times, 1 visits today)