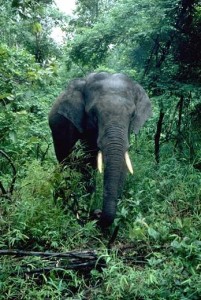 Individual elephants in the state of Karnataka will soon be easily identified thanks to a novel project by wildlife groups in the region. The organizations are giving each elephant a photo identification card that will help researchers as well as conservationists.
The researchers hope that by giving individual elephants an identity card it will help them better to track them and study the movement of elephants from one area to the other. For conservationists the cards will be an extremely useful tool in identifying a particular animal hunted down by poachers.
New-York based Wildlife Conservation Society, is working with several Indian groups on the effort.
According to Varun Goswami, the main author of the study the project is currently focusing on male elephants only. He clarifies the reason,
 "unlike African elephants, where both males and females have tusks, only male Asian elephants have valuable tusks, so they are specifically targeted by poachers," he said.
Goswami and his team took more than 2,400 photographs of 134 elephants in reserves in Karnataka. Using the data they noted the characteristic of each elephant like tusk length, thickness, angle, arrangement, as well as other characteristics like ear shape, shoulder height, tail length, and scars.
According to estimates there are about 26,400 wild elephants in the country and a similar tagging process for all elephants will only make future protection and conservation easier.
While there was the possibility of elephants migrating in and out of areas "still, you can get a fairly good idea of the survival of these elephants if you are monitoring this over a period of time," said R. Sukumar, a wildlife expert at the Indian Institute of Science in Bangalore.
Dr. Ullas Karanth, a co-author of the study said the study and the project could be a great way to use technology for the benefit of the animals.
"The rigor of this technique can help us achieve real conservation success with the Asian elephants, which are threatened across their 13-country range," he said.
The study's findings were published in the August issue of Animal Conservation, a journal published in London.
Related Stories:
Villagers give up their Land for Elephants
Raised by Humans, Elephant now part of Wild Herd
Rescuers save Baby Elephant trapped in a Ravine
Article reference: redorbit
(Visited 470 times, 1 visits today)