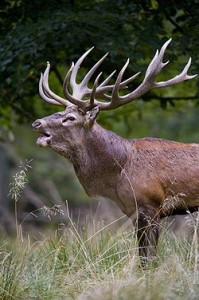 Hangul or the Red Stag is the state animal of Jammu and Kashmir. It is an endangered animal and in order to provide more protection to the animal the Jammu and Kashmir Light Infantry (JAKLI), an infantry regiment of the Indian Army has joined hands with the state forest department and started the 'Save Hangul Campaign'.
Hangul (Cervus Elaphus Hanglu) is mostly found in Kashmir in Dachigan National Park and wildlife sanctuary. It is known for its majestic red coat and two shiny antlers. Recently it was also found that the stag population is on the rise in the valley.
The Hangul was put in the red list in 1996 by IUCN as an endangered animal. Although numbers have increased the animal is repeatedly killed for its precious antlers and fur. Presence of the armed forces in such a high number in the state also is having a negative impact on the population of this species. The main reason being loss of habitat due to dam projects and presence of military and paramilitary forces in the valley.
"Due to ragging conflict in valley the number of Hangul was on decline. Last year the number was 172 in and this year it has reached 218," said Shant Manu, Commissioner Secretary, Forests, J&K government.
Since 2004 the census has been an ongoing effort of the state forest department and Wildlife Institute of India to gauge the population of the rare stag.
The involvement of Indian army in saving the deer is now being looked upon as a welcome sign.
Shant Manu, who called for collective efforts to save the endangered species, thanked JAKLI for launching "Save Hangul" campaign and added that their patriotic favour, commitment, training and discipline will be a great boon and asset in the conservation efforts for this wonderful animal.
Major General JP Alex, head of JKLI Centre, Kashmir valley said that JKLI will start conservative efforts and it will be spearheaded by the regimental officers association and "now on JAKLI would adopt the Hangul as a mascot".
Brigadier Somnath Jha of JKLI added that the challenge now lay on the army's shoulder to save the species.
The state government too is planning to start a breeding centre for Hangul at Shikargah-Tral and Darwudri-Mamar plan to create a gene-pool of the animal for posterity.
With the joint efforts of the army and the government, the stag can hope to increase the enchantment of the beautiful Kashmir valley for a long long time.
Related Stories:
17 Species to get help from Becoming Endangered and Extinct
Census shows Increased Population of Endangered Hangul in Kashmir
Article reference: indiablooms