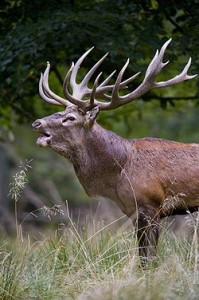 The Hangul or the Kashmir Stag are a critically endangered species. The latest census carried out in the Dachigam National Park, however have shown an encouraging trend in Hangul population with approximately 38 percent rise.
The Hangul are admired for their fascinating antlers with 11 to 16 points. Among the 'Red deer' family of Europe, Hangul are the only surviving race in the Asian subcontinent.
In the earlier decades Hangul were widely distributed in the Kashmir Mountains. In fact during Maharaja Harisingh's tenure a Kashmir shikar map was prepared depicting Hangul in a 40 km radius. By 1947, their population dwindled to between 1000 and 2000, and in the 70s to as low as 270. Rest of Hangul population remained scattered in the Dachigam National Park.
According to the experts the population of the Kashmir Stag was recorded as,
197 in 2004
127 in 2008
175 in 2009 (present figures)
What was also found is that compared to 2008 the male, female, fawn ratio was better this time. According to this census, there were 27males and 28 fawns for every 100 females, while the 2008 census showed only 23 males and 9 fawns for every 100 females.
The Department of Wildlife Protection and Wildlife Institute of India jointly carried out a week long survey covering an area of 450 sq. km of Dachigam National Park, spanning Braine, Khanmoh, Chesmashahi, Wangath, Khrew, Dare Conservation Reserves. Surfrao, Akhal, Mammar, Najwan which are adjoining the forest areas, were also covered in the census.
Rashid Naqash of wildlife warden centre, who supervised the census, said they were hopeful that healthy ratio of male, female, fawn would eventually result in increased population of Hangul in the future.
He further noted that "The Researchers and volunteers have witnessed direct sightings of the Hangul in Dachigam and its adjoining forests and conservation reserves. They have also gathered  indirect evidences including shredded antlers. Importantly, this time we have spotted the Hangul even out side the protected areas. These factors point towards a considerable increase in the species population."
Indirect evidences like shredded antlers, hair, droppings and wallowing are being sent to Wildlife Institute of India for analysis and establishing the Hangul's correct figure.
Ironically, the political turmoil in the Kashmir valley has somewhat put a check on the poaching of Hangul, but they are not altogether absent. Police arrested 6 people in January for killing a Hangul in Dachigam National Park.
 The IUCN had categorized the Hangul in its Red List, as endangered in 1996. Hangul is also found in the list of Convention on International Trade in Endangered Species (CITES) of wild Flora and Fauna.
A participant student of the census, Stanzint Landal from SKUAST-T wadoora said it was a privilege to see the Hangul for the first time and felt thrilled about the experience.
 "I hail from Nobra Valley in Ladakh and feel privileged to have seen a Hangul. It was a learning and adventurous experience," she said.
Abdul Rashid Wani, former Primary chief conservator of forests said implementing conservation plans for the Hangul necessarily entaisl knowledge of their present appropriate number. According to him, awareness has to be created amog people about Hangul. Acting as messengers would make people more responsive to the importance of wild animals and particularly Hanguls. Added to the eco factors affecting their survival, the tension between India and Pakistan relations also will have impact on wild life.
He said "Kashmir is a bio-mass state and boasts of richest and unique biodiversity including wild life animals. For conservation of its wild life, it is not only the responsibility of the state Government but also India and Pakistan to enter in to Ecological agreement to save the environment and Wild life."
The Dachigam National Park is the last bastion of the Hangul due to constant interference in its habitat. Now the census carried out with direct and indiredt evidences has revived the hopes for Hangul preservation with increased number in their population, reported even outside protected areas.
– Freelance Contributor