A monthly focus on one of the many national parks and wildlife sanctuaries of India.
In the northernmost Indian state of Jammu and Kashmir, lies the Dachigam National Park, the only remaining home of the endangered Kashmir Deer Stag or the Hangul.
Species to Watch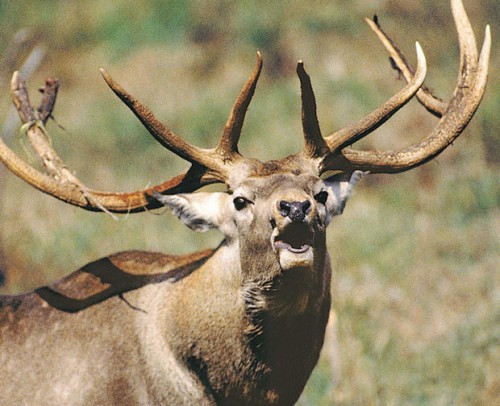 Hangul or Kashmir Deer stag (Cervus elaphus hanglu) – Listed as Endangered on the IUCN list.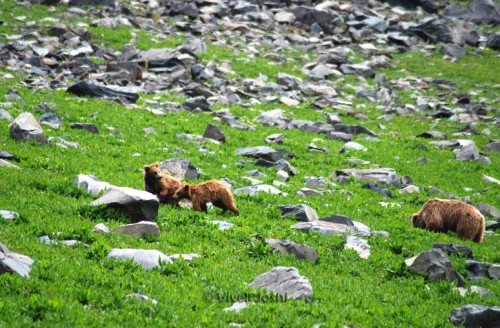 via indianaturewatch.net
Himalayan Brown Bear (Ursus arctos isabellinus) – Listed as Endangered on the IUCN list.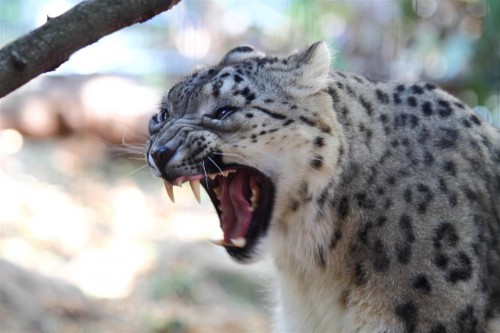 Snow Leopard (Uncia uncial) – Listed as Endangered on the IUCN list.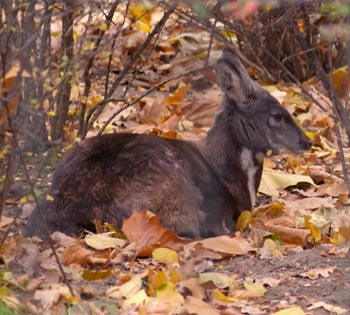 Himalayan Musk Deer (Moschus leucogaster) – Listed as Endangered on the IUCN list.
Find on the Map
The Sanctuary is located between 34°5′ – 34°3′ North Latitudes and 74°4′ – 74°5′ East Longitude. Spread over an area of 141 sq. kms, the sanctuary is located at a distance of 22 kilometres from Srinagar and is at altitudes ranging from 1700 metres to 4300 metres above sea level.
Ideal time to visit
The park is divided into two regions Upper Dachigam and Lower Dachigam and hence the ideal time to visit each of them is different.
Upper Dachigam- May to August
Lower Dachigam-September to December, best month being October as the Stag rutting season is on.
Things to know
About the Park
The literal meaning of Dachigam is ten villages. It is so called since in 1910, the Maharaj of Kashmir relocated ten villages from the Dagwan valley in a bid to create a game preserve and to warranty an untouched catchment area for the Harwan Reservoir, the major source of water supply to the summer capital, Srinagar. Declared a National Park in 1981, the place is a beautiful haven for wildlife and a sight for sore eyes in summer with carpets of greenery and blue poppy blossoms. The ever tempestuous political situation in Kashmir has however taken toll on the wildlife here.
Climate
Summer: (8°C) – (14°C)
Winter: (-2°C) – (4°C)
Habitat type
The Dachigam National Park has great topographical variations consisting of steep rocky edges, dense woods, deep ravines and gentle slopes carpeted with grasses. Upper Dachigam is dotted with Blue Pines, Juniper, Birch and bushes. Lower Dachigam has rocky gullies covered with shrubs and Oaks, Willows and Mulberry trees dominate the landscapes.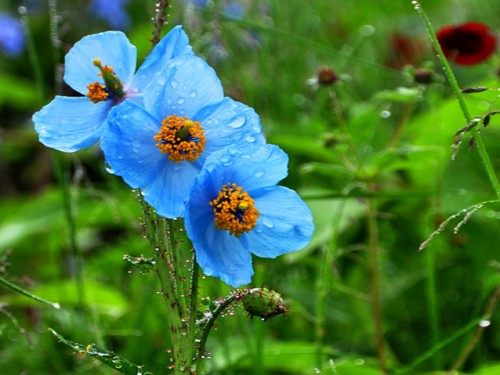 Flora
Lower Dachigam is characterized by Himalayan Moist Temperate Forest (Champion and Seth, 1968). It has varied vegetation depending on the slope type. The important species on the main valley floor include Oak (Quercus robur), Nettle Tree (Celtis australis), Mulberry (Morus alba), Elm (Ulmus spp), Walnut (Juglans regia), Small flowered Himalayan ash (Fraxinus micrantha), Horse Chestnut (Aesculus indica) and Poplars (Populus spp). The shrubs along the stream beds include Witch Hazel (Parrotiopsis jacquemontiana). The most common herb found here is the Strobilanthes.
Upper Dachigam has beautiful Fir and Birch forests and alpine meadows. Rare Saussurea species and blue poppies are found in upper Dachigam.
Fauna
Dachigam is famous for being the home of the Kashmir Stag, a red deer species only found here. Sightings of the elusive Snow Leopard have also been reported in this park. Besides these, other mammals found here include the rare Himalayan Brown Bear and the Himalayan Musk Deer, the Himalayan Black Bear, Himalayan Serow, leopards, Himalayan Grey langur, Jackal, Hill Fox, Yellow-throated Marten, Himalayan Weasel, Long-tailed Marmot, Jungle Cat, Leopard Cat, Otter, etc.
Avi-fauna found in the park consists of Cinnamon Sparrow, Black and Yellow Grosbeak, Babbler, Bunting, Streaked Laughing Thrush, Pygmy Owlet, Himalayan Pied Woodpecker, Red-browed Finch, Himalayan Rubythroat, Kashmir flycatcher, Monal Pheasant,  Red-Billed Blue Magpie, Himalayan Griffon Vulture, Bearded Vulture, Koklass Pheasant  etc.
Reptiles like the Himalayan Pit Viper, Common Rat Snake, Kashmir Agama and the Small Skink are found in the park.
Safari Information
For viewing Lower Dachigam, a jeep can be hired at the entrance of the park. Upper Dachigam is only accessible by foot or on Zanskari ponies. Entry charges are nil, however a permit is required to enter the park that can be obtained from the Chief Wildlife warden at Srinagar.
Park Timings-5:30 AM to 6:30 PM
Accommodation
Visitors can choose to stay at various hotels privately or by the government at Srinagar.
Accommodation is also available inside the park in the form of Tourist Huts and Dormitories.
Approximate Tourist Hut Cost- INR 125 for a room for doubles
Approximate Dormitory Cost- INR 40 for a bed
How to Reach
Nearest Airport – Srinagar Airport is about 22 kms away from the Park.
Nearest Railhead – Jammu Railway Station is 315 kms away from the Park.
Expert Traveller tips
Carry woollens as climate is very cold inside the National Park.
Always check the most recent political situation update about Kashmir before starting for your trip to Dachigam.
If you are planning to visit Upper Dachigam, check if all routes are clear as very often, the routes are snowbound.
From the Archives
http://indiasendangered.com/indian-army-starts-the-%E2%80%98save-hangul-campaign%E2%80%99/
http://indiasendangered.com/after-tigers-now-ban-on-hangul-tourism/
Reference
Arkive, wildvistas, travelindia