Remember the excitement of finding a lost personal treasure after years of searching? It is the same jubilant excitement that nature explorers felt when they re-discovered a spider thought to be long dead and probably extinct. Found in the foothills of the Seshachalam hills in Andhra Pradesh this spider last seen in 1899 is known as the peacock of the arachnid world. The IUCN had declared the species as critically endangered.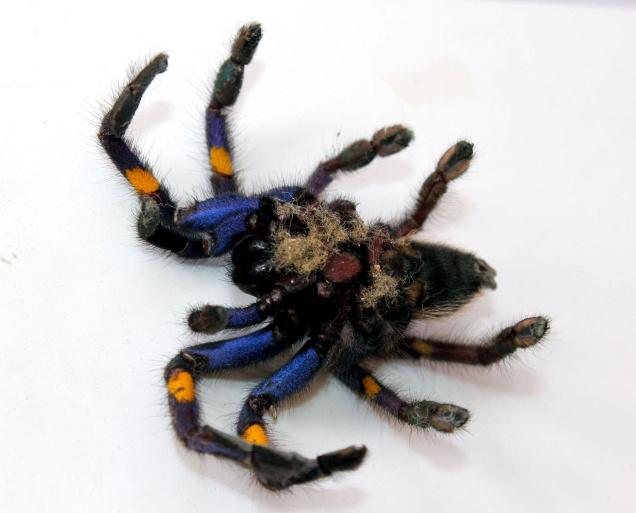 The attractive tarantula discovered after more than a century is known by many names – Gooty Tarantula, Metallic Tarantula, Peacock Parachute Spider, Peacock Tarantula, Salepurgu and scientifically as Poecilotheria metallica.
Hunt for the Spider
It was in 1899 when the spider was first discovered by Pocock in a single location less than 100 sq. km. in the reserve forest between Nandyal and Giddalur in Andhra Pradesh. Later, in 2001 after 102 years, scientists re-discovered the species but did not get any scientific sample as proof. It is only now that years of effort to find the elusive spider has finally brought some results.
While taking inventory of the Seshachalam Biosphere reserve spread across Chittoor and Kadapa districts of Andhra Pradesh, officials of the Seshachalam Biodiversity Lab attached to Tirupati Wildlife Management Circle sighted a dead specimen of the spider.
Its coloured carapace with dark bands on the abdomen proved that the scientists had triumphed in finding the poisonous spider again.
Worry post Re-discovery
The presence of a critically endangered species in its natural habitat is a fantastic discovery. It not only ensures that the species is still very much alive, but also assures of the habitat still being its idle home.
As per IUCN, other surveys have not indicated the presence of this easily-identifiable species in any other locality. However, traders have put up this spider on sale after collecting some adults from the said area or nearby. Since information on their collection area is not available, it is presumed that they could have collected only from the nearby location and not from the protected Gundlabrahmeshwaram Wildlife Sanctuary.
There is also the fact that the researchers found only one specimen and that too a dead one. There is no way to tell if that was the last of the species until more extensive search is carried out in the same locality.
The greater risk for the crtically endangered species is the rapidly declining and heavily fragmented habitat of this little creature that loves to live in tree hollows. The degrading Eastern Ghats may make it impossible for the spider to survive even if the population is on the path to recovery.
Hopefully, this news will prompt some urgent conservation action.
More Related Stories,
Research Centre to Study Spiders
Animal Species Critically Endangered in India
Another 400 Species get Red Listed