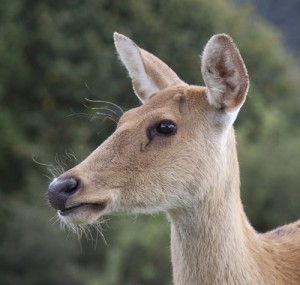 When S K Tripathi, a soldier from Indian Army's Western Command Signals Regiment was on duty, he spotted a Sambar Deer fawn being attacked by a pack of stray dogs who were biting the helpless creature. The soldier sprang into action immediately and saved the deer from the onslaught.
The Army's Western Command Complex near the Shivalik Hill in Chandigarh has a dense forest cover area. Hence, many wild animals including Sambar deers frequent the area and are left undisturbed. But over the past few months, stray dogs have begun attacking the animals sometimes giving fatal injuries.
But one baby Sambar got lucky when Jawan S K Tripathi spotted it being attacked by the dogs.
"I was doing my duties when I saw this fawn being attacked by dogs. I rushed to save it and drove the dogs away. I informed the commanding officer, Col I Krishna, who provided all facilities to get the fawn treated by the Army veterinarian. For the first two days, it seemed the fawn would not surivive because it had got infected by dog bites. The fawn also seemed to have a weak heart and was very traumatised," said Tripathi.
The fawn has succumbed injuries on its legs, ears and the haunches. However it gradually began responding to medical attention and the love and care it got from all the army officials. Tripathi is especially leaving no stones unturned to care for the injured animal, like his own child.
"Like a typical wild animal, it refused to eat anything from us. However, I would cradle it in my lap and use a baby milk bottle with a nipple to force-feed the fawn. I sit with it in the sun every day so that it can feel warm and recover. The wounds are so deep that the fawn cannot use its limbs and I carry it in my arms like a child whenever we have to take it to the veterinarian or move it indoors at night," said Tripathi.
The recovering Sambar fawn has become so popular in the army complex that the men treat him like their mascot. Senior Army officers and their wives enquire daily about its health, and the fawn too is growingly getting accustomed to all the attention it is getting. It allows people to pet him without biting them and especially treats the army man who saved him like family.
From protecting human lives to protecting helpless animals as well, Tripathi definitely sets an example for others to follow.
– Atula Gupta
Article source Image courtesy ahisgett via cc Flickr