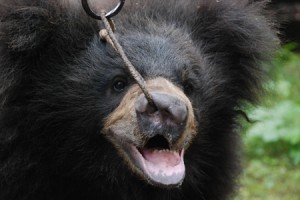 There was a time in India when the streets were abuzz with animal performers especially those who could make the bears dance. With time the practice of torturing animals in the name of entertainment was abolished especially after bear dancing was made illegal by the government of India. But despite the ban in place for more than two decades, another case of illegal sloth bear capturing came into light when officials nabbed two suspects from Jharkhand with a nine month old bear cub.
The cub was seized from Pakhi Tola, near Madhupur town by the state's Forest Department assisted by WSPA-WTI. The suspects were believed to be of the community who perform on streets with bears. But unfortunately while one nine month old bear cub was rescued, the two ran away with another bear cub.
The rescued bear cub has been taken to the Birsa Zoological Park, Ranchi.
Bear dancers or kalandars are a community that became renowned during the Mughal period. These individuals knew nothing else other than dancing bears. When the Indian Widlife Act came into picture in 1972 the Sloth Bear were given a protected status and therefore the practice of dancing bears was abolished. But little difference was actually felt in the villages and towns of India where the show kept on going.
Thanks to the efforts of many organizations though like the Widlife SOS and Wildlife Trust of India (WTI) the kalandar community was taught new means of earning and bears were rescued in large numbers from around the country.
The present incident though shows that much public awareness and stronger enforcement of the law is still needed.
A report published by WSPA in 1997 showed how bear dancing eradication was a difficult task. The report highlighted the multi level cross boundary mechanism which operated involving poachers, traders, smugglers and bear dancers.
"Our efforts in the last decade were instrumental in clamping down on the bear trade, with the provision of lifetime care for bears along with awareness and enforcement, coupled with the provision of alternate livelihood to Kalandars," says Aniruddha Mookerjee, WSPA India. "WSPA-WTI's Sloth Bear Conservation and Welfare Project helped more than 46 Kalandars and over 250 dependants from three states surrender their bears and settle in an alternate livelihood of their choice. Through systematic monitoring and evaluation that continues, we have been able to ensure that they do not return to bear dancing."
The efforts have paid off as bear dancing has been wiped out entirely from states like Madhya Paradesh and Orissa which were earlier hubs of the trade. But experts believe the recent incident shows that residual problems still remain in interiors of Jharkhand and Uttar Pradesh.
"A lot of these interior areas are inaccessible or unsafe even for enforcement agencies, allowing for covert continuation of the practice," says Jose Louies, Enforcement Assistance and Law Division at WTI. "The key to stop this will be to ensure successful transition of Kalandars to alternative livelihoods, coupled with other approaches including effective protection of bear cubs in source areas, trade control and awareness generation."
From Forest dwellers to Street dancers
For a sloth bear turned into a dancing bear, life is a series of cruelties right from birth. The poachers nab these tiny cubs from their mothers even before they wean from mother's milk. Often the mothers are brutally killed. When the cubs are then transported from one hiding place to other in gunny sacks, small cages or wooden boxes, they are fed just to keep them alive and constantly chained and beaten. Soon in the hands of the kalandar, hot rods are used to break all of the bear's teeth. They also put a hot iron rod into the muzzle of the bear when it is still a baby. It is twisted into a ring and used to tie a rope and pull the bear while it is forced to dance. The wound never gets time to heal and the animal bears the pain all its life.
"Once a sloth bear cub is separated from its mother, its future is bleak," says Dr NVK Ashraf, Chief Veterinarian, WTI. "Once the permanent canines are removed, rehabilitation, which is anyway a difficult task, is next to impossible as they are defenseless. The key therefore lies in keeping them in the wild."
It is time we stopped torturing and forcing a wild animal for a few paisas worth of entertainment.
Related stories:
Angry Mother Bear scares off Two Tigers in Ranthambore
Brown Bear Mother and Cub caught on camera in Kargil
British Vets give Eyesight Back to Rescued Bear
Article reference: Wildlife Trust of India