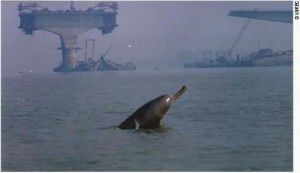 If you love dolphins mark Octobor 5th in your calendar as the state of Bihar has decided to celebrate the day as Dolphin day. Ganga river dolphins or Ganges river dolphins are an endangered freshwater dolphins also the national aquatic animal of India.
India was once home to tens of thousands of Ganga river dolphins. These blind swimmers of River Ganga were spread in all places where the holy river and its tributaries flew. But in the last decade the population of the dolphins has gone down drastically. It is believed that now there are less than 2000 Ganges dolphins surviving in the wild in India.
Bihar government had taken crucial actions to save these depleting species including the creation of India's only freshwater dolphin sanctuary the Vikramshila Gangetic Dolphin Sanctuary in Bihar's Bhagalpur district.
"The Dolphin Day would be a part of the Wildlife Week that will be observed from Oct 2 to 8," Environment and Forest Department Secretary Dipak Kumar Singh said.
The state plans to invite noted conservationists including India's dolphin man R K Sinha for the celebration and conservation programmes.
"We will also arrange to screen films on the dolphin and involve youth and students to spread out message of dolphin conservation," Principal Chief Conservator of Forests Bashir Ahmah Khan said.
One of Four
The Ganges Dolphins are one of the only four surviving freshwater dolphins in the world. The other three include Yangtze river dolphins of China, Amazon river dolphins of South America and Indus river dolphins in Pakistan. Apart from India Ganga river dolphins are also found in Bangaldesh and Nepal.
What has threatened the lives of these river dolphins is excessive pollution of the water bodies and poaching. The dolphins are blatantly killed for their skin and also by fishermen to extract their oil which is later used to lure fish and catch them.
Last year, the Bihar government decided to set up a task force for the conservation of the endangered species. Earlier this year, state government set up Ganges dolphin research centre, the first such in the country.
The government hopes that the day would spread more awareness about the dying species and encourage youngsters to learn more about this fascinating aquatic animal.
More Related Stories,
Asia's First Dolphin Research Centre to Come up in Bihar
Good News for Gangetic Dolphin
Fish in Tank..none in the River