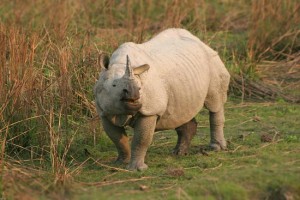 For the last 30 years, Jadav Payeng has been the lone warrior who created a forest in a barren land in Assam. Jadav's relentless crusade was rewarded when wildlife including a rhinoceros made the forest its home. But the happiness was short lived. Last Wednesday poachers killed the adult rhino for its horn leaving Jadav in despair and the forest department failing to save a rhino yet again.
The forest in Jorhat District in Assam is unusual because it is not a natural wilderness, but one that has been deliberately grown by a man who left his home and school, just to plant trees and create a man-made forest. But last Wednesday Jadav's peaceful paradise was disturbed when he heard gunshots.
"I heard gunshots around 10am on Wednesday and immediately alerted the forest department. But nobody came until Thursday morning. It was the only rhino in my forest. I have lost him," Payeng said sobbing.
Divisional forest officer (DFO) Naba Kumar Malakar says that the department personnel combed the forest all of Thursday but could not find any evidence of poaching. It was only on Friday that the mauled body of the Rhino was found.
"The poachers sawed off the rhino horn and its nails. We have found holes in the hide, which look like bullet wounds, but until the postmortem happens, we cannot confirm if the animal was shot dead. It's already late today and the autopsy will happen only tomorrow," Malakar said.
Ranger Pankaj Kalita said the difficulties in reaching the forest—locally known as 'Molai Kathoni' (Molai's Woods) after Payeng's pet name Molai—also hampered the search operation.
But Payeng and his associate do not agree.
"I had called up the forest office around 12pm on Wednesday when I learnt about the gunshots from Payeng. Why did it take four hours for the message to be relayed to the DFO? If they had acted with alacrity, they could have nabbed the poachers before they left the forest. Poachers were seen earlier in the forest and two of them had been arrested due to Payeng's timely information. Only if they had acted with a sense of urgency," said Jitu Kalita, Payeng's associate.
The loss is even greater because Assam has already lost 17 of its rhinos recently with the floods playing havoc in Kaziranga, Manas and other national parks of the state. Jadav might now need an added pair of eyes and ears to take care of his precious forest and the new home to wildlife.
Find more about Jadav and his unusual forest here.
More related Stories,
Tribal Women Save Forest Cut in the Name of Eco-tourism
Rhino and Other Wildlife Battling Floods in Assam