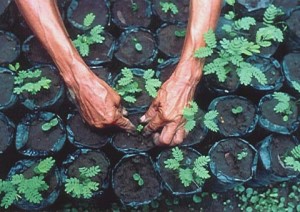 Madan lal Punjabi of Jaipur, Rajashtan is a man with a mission. In a span of 7 years, he has planted 1,600 saplings for the benefit of Jaipur residents to provide green cover to the city and solace to people from the hot sun.  Himself in the golden years of his life, so deep is Madan lal's commitment to the cause that he says the trees our like his own children and he will continue to care for them till his last breath.
The seventy three year old 'green ambassador' has taken upon himself the task of encouraging others to plant saplings and also take care of them with a view to increasing green cover in the city. 
He says,
 "As the climate is changing due to the felling of trees, I first thought of planting trees in 2004. On August 11, 2004, I planted my first sapling in the New Raja Park area."    
Most of the saplings were planted in the Manasa sarovar, Adarsh Nagar, Raja Park and Jawahar Nagar areas of Jaipur , providing green cover to nearly 40 colonies as on date.
Half of the trees are fully grown and provide shelter to people from the scorching sun, says Punjabi proudly.    Every year he celebrates birthday of trees he planted, as he loves trees like his own children.
About Madan Lal Punjabi:
Born in 1938, at Dariya Khan of Miyanwari in Pakistan, Punjabi migrated to Rajasthan in the year 1947 along with hundred others. In the initial years, he had no option but to depend on trees for livelihood as there were no jobs post migration. He recalls how times were hard then, with not much to eat, he used to collect twigs and branches from trees from nearby jungles and sell them for money in the market.
Punjabi in 1961 was employed as a bus conductor with Rajasthan state Road Transport Corporation. Two years later he quit and purchased a tempo and later on became the president of Sangarsh Samiti of tempo drivers. Now, he owns a grocery shop in jawahar Nagar.
Punjabi is now better known as green man determined to plant trees and his popularity is growing with people in the vicinity requesting him to plant saplings near their houses. He obliges them, though with a condition. He said a team of labourers are hired for digging holes to plant the samplings,
"I plant trees outside their houses with a condition that they have to take care of them properly".
One need not be a celebrity or even an organisation to care and act upon safeguarding environment; it is very much possible at the individual level if one's belief for the cause and concern for the environment is 'strong' and committed like this common man with an uncommon mission.          
Our country needs many more like him.
Related Stories:
87 Year Old Creates man-made Forest in India
villagers in Madhya Pradesh save Forest from Lime Kiln Owners
Karnataka Launches Major Afforestation Scheme
Article source: Economic Times