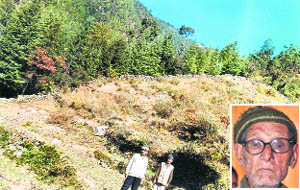 Nestled between large barren mountains in the small Chamoli village of Uttarakhand, there is a patch of green with tall oak, walnut, deodar and other trees looking heavenwards. If these trees could speak they would only say thanks to one man named Narain Singh Negi who spent last 40 years of his life planting more than 9 lakh trees and creating a man-made forest.
Narain Singh is 87 year old today and looking back he can only rejoice at the legacy he has left behind for his villagers and the country. And as with any big challenge, his was not an easy feat to accomplish.
When Narain Singh Negi first thought of converting the barren village land into forests, no one backed his idea. The inspiration for this forest came in 1965 when a massive landslide almost destroyed his village "I was contemplating a permanent solution so that such disasters did not recur," he says.
He thought that growing trees in the land could do wonders for the ecosystem as well as provide fuel and fodder for the villagers. Still, no one thought it was possible.
"There was a real fear that the barren land would be acquired by the land mafia and for several years, people tried to wrest the piece of land, forcing me to approach the local administration that too was unwilling to lend its support."
The village head, decided to take the task upon himself. First he built a stone wall around the area where he envisaged the forest. Then, he prepared a nursery of ringal (dwarf bamboo), walnuts, surai (cypress), among other plants. His initial nursery had 20,000 plants—all bought from the Forest Department for Rs. 2 a sapling.
Monikers followed. He was dubbed "sanaki" or eccentric by many. But in time, erstwhile skeptics turned into ardent admirers.
 "But by that time, I had already started working and the effects of greening were all too evident. The needs of fuel and fodder of the villagers were being met by the little green plot I had created. That is how I was able to expand the area," explained Narain Singh Negi.
Today the small patch of forest has spread to 27 hectares of land divided into eight mini-forests with 9 lakh different varieties of trees. They have been named after great freedom fighters and leaders of India by Negi who himself served in the Indian National Army (INA) formed by Subhash Chandra Bose.
"I have named the forests after Mahatma Gandhi, Chipko leader Gaura Devi, ndira Gandhi, Govind Vallabh Pant, Jawaharlal Nehru, Dr BR Ambedkar, Chander Singh Garhwali and Subhas Chander Bose," he says.
He has even built a temple dedicated to them, where daily worship of these nationalist idols is conducted.
Even now the lean, bespectacled Narain Singh spends his time from morning till late evening nurturing his land. The area is bouncing with life in the form of the different trees and the birds and small animals frequenting the safe haven. There are at least 14 wildlife species living here.
"I am satisfied to see my jungle, which was built through years of struggle, now becoming a model for neighbouring villagers who are keen to initiate a similar exercise on their barren land," said Negi.
Going a step further the pioneer has also recently found support and managed to recharge old springs that are providing ample water to the forest.
 "The recharging of water too has gained currency after we began planting trees. The entire ecosystem seems to have been reactivated," he stressed.
Ironically in his 40 years of creating the forest, Negi has never really been commended for his efforts by the governments that have come and gone in Uttarakhand. So far the only recognition he has got is the Gaura Devi Samman, an award commemorating the legendary Chipko leader Gaura Devi, which made him richer by Rs. 5,000.
The man who spent at least Rs. 15 Lakh to create the forest feels slightly pained by the lack of recognition.
"I am not hungry for money or awards. I am an old man and have to worry about medicines and frequent trips to doctors," said Narain Singh who was part of the deliberations held on Himalayan policy in Doon recently.
But he knows what his forest can do for the future.
"It'll keep the climate undisturbed and give us pristine air, plus good food and fruits to eat," he says exhorting villagers to raise own forests. "Look, how much the temperature has risen today and look at the scanty snowfall. Only a good forest cover can save us from the jalvayu sankat (climatic crisis)."
While governments contemplate in high profile meetings, forest and environment departments spend time creating action plans, one man has proven through his silent and solo endeavors, what Mahatma Gandhi had said long ago, "You should be the change you want to see in the world."
–       Atula Gupta