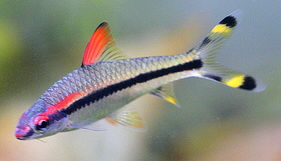 The Roseline Shark (Puntius Denisonii) has become a popular aquarium fish adorning homes, hotels and malls. But unknown to the hundreds who watch the beauty of this fish in a tank, the species is actually victim of the aquarium trade and economic development that is harming the fish as well as its freshwater habitat.
This beautiful species is endemic to the rivers and fast flowing warm streams in Western Ghats area of Kerala and South Karnataka in South India. IUCN has listed the fish as endangered as it is only found in these particular parts of the world. But fast urbanization, pollution and rapid destruction of the freshwater ecosystem is creating crisis in the fish's life.
According to a latest study done by IUCN the population of this ornamental fish has decreased to 50 percent mainly because of the international aquarium trade. The experts foresee that the decline will increase because the habitat of the species is also shrinking.
The species also has a restricted range with an area of occupancy of less than 300 km² with continuing decline in quality of key habitats.
About the Rosaline Shark
The Roseline Shark has torpedo-shaped body with a red line running from it s mouth till back of the eyes. There is another black line dividing the upper and lower half of the body. Because of their calm nature and easy schooling people prefer to keep them in group of four or more in fish tanks.
Related Stories:
Western Ghat Aquatic Animals Plunging Towards Extinction
India second in the list of Shark Catching Nations
Article reference: ibitimes