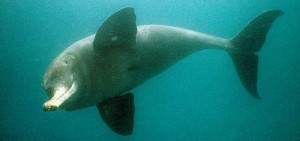 News of an endangered animal population increasing in number is hard to come by nowadays and therefore whenever such a thing does happen; it brings with itself a sigh of relief. The good news this time is about India's national aquatic animal the Ganga River Dolphin whose population has increased from 175 last year to 223 at the Vikramshila Gangetic Dolphin Sanctuary, India's only dolphin sanctuary, located in Bihar.
The census was conducted recently by the Vikramshila Biodiversity Research and Education Centre (VBREC) of Tilka Manjhi Bhagalpur University (TMBU).
"It is a positive sign that the Gangetic dolphin's population is increasing," said Sunil Choudhary, coordinator of VBREC.
A major concern for environmentalists is the high frequency with which this fresh water animal becomes a prey of poachers. Quite often the dead dolphins are found on river side along the path of River Ganga which is home to the species.
In Bihar especially poaching is at an all time high. Wildlife officials say poachers kill them for their flesh and oil, which is used as an ointment and aphrodisiac.
According to the World Wildlife Fund  (WWF), in the 1980s, there were around 3,500 dolphins in the Ganga delta region alone but now there are only about 2000 left.
The Vikramshila Dolphin Sanctuary, which is spread over 50 km along the Ganges river in Bhagalpur district, is now home to 223 ganga river dolphins according to the census conducted in the month of October.
"Gangetic river dolphins have registered an increase of 27 percent in the past year. About 223 dolphins were counted by the experts during the latest census, compared to 175 dolphins spotted last year during the survey," Choudhary said.
In 1998 when the census was conducted for the first time, the population was around 95.
Gangetic river dolphins fall under Schedule I of the Indian Wildlife (Protection) Act and have been declared an endangered species by the International Union for Conservation of Nature (IUCN).
R.K. Sinha, an expert on Gangetic river dolphins and chairman of the working group for dolphin conservation set up by the central government, said though the news of population rise was a good indication that the species is surviving well in the sanctuary it is the same area that has been under attack by poachers in the last one year.
The Gangetic river species – found in India, Bangladesh and Nepal – is blind and finds its way and prey in the river waters through 'echoes'.
Related Stories:
Receding Habitat Threatening Ganga River Dolphins
Reference: Theweekendleader
(Visited 660 times, 1 visits today)