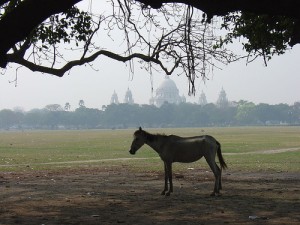 We always assume that a city, any urban city, is only home to people, cars, trucks, factories, innumerable buildings and shopping malls. It may come as a surprise to some therefore that a survey recently found Kolkata, one of the most urban metropolitan of India to be home to an exhaustive list of mammals, birds, reptiles, insects and over 667 species of plants. Whether this green cover continues to beautify the city, depends largely on how the city dwellers shape their home's future.
The first official study on Kolkata's biodiversity was conducted by a city based NGO, Society for Environment and Development on behalf of the West Bengal Biodiversity Board (WBBB). The study lasted for a year and took the help of students from colleges and university.
"The students were taken from five colleges and two universities in the city. We divided the city into five zones — east, west, north, south and central for the study. What we found was perhaps always known. But we need the data to initiate a conservation drive," said AK Ghosh, who led the study to TOI.
The result of the study which will soon be published, is an exhaustive list of flora and fauna that continue to call Kolkata home, inspite of all the pressures of the urban world. This includes,
20 species of mammals
107 kinds of birds
1 amphibian species
8 local varieties of fish
64 butterfly species
35 species of flies
10 species of ants
13 species of insects
2 species of snails
35 spider species
There are also some 667 different species of plants in Kolkatta including,
96 medicinal plants
 161 species of herbs
205 species of shrubs
229 flowering species
68 climbers
But though the list seems impressive, the researcher says it does not give any idea of how much flora and fauna Kolkata has already lost as this kind of survey was never done before.
"While the numbers seem impressive, we have no way of making a comparison to gauge the loss we might have suffered. But our study indicates that biodiversity has been seriously affected by the rapid urbanization and loss of green cover. The Maidan accounts for nearly half of the city's total open space. There has been a massive habitat destruction on the city's fringes, including Salt Lake," said Ghosh.
The Endangered Three
The research team found that Kolkata is also home to three of India's Endangered species, namely the Indian Mongoose, Jackal and Gangetic Dolphin. The Small Indian Mongoose and the Gangetic dolphin, both schedule I animals, still existed in Kolkata but were not widely observed. Jackal, a schedule II species, was left in a few pockets of north and east Kolkata, the study says.
According to Ashok Sanyal, chairman, WBBB.

"Conservation, sustainable utilization of natural resources and benefit sharing have been laid down as the three objectives. So far, Kolkata did not have a people-biodiversity register (PBR). Without it, we have been going in the dark. Now, this data will help us launch a conservation drive and preserve Kolkata's biodiversity," said Sanyal.
Amidst development priorities, a city's ecosystem suffers the most. But this survey is a start to make sure that the flora and fauna are not forgotten completely, something each city in India needs to ensure. The knowledge of plants and animals already inhabiting an area will only make it easier to save them.
More Related Stories,
Maharashtra's Biodiversity Revealed
Good News for Gangetic Dolphin 
Image via CC/Flickr by amanderson2
(Visited 2,373 times, 1 visits today)