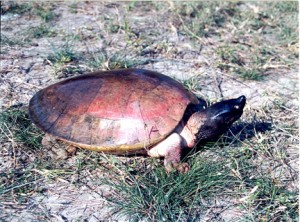 In a world where 7 billion plus, human beings exists, only 39 of a kind of turtles survive. But thanks to the collaborative effort of officials and conservationists, a team at Sunderban, has managed to breed the extremely rare turtle species – Batagur baska first time in captivity. Also known as north river turtle, the terrapin is a critically endangered species found in India and is more threatened than the tiger.
Batagur baska are the most threatened large river turtle in the world. There are only 39 of them left globally. Found in Sunderbans, these turtles have been recently proven to be a different subspecies and genetically distinct from other populations in Southeast Asia.
According to officials 25 baby Batagur turtles were hatched at the interpretation centre in Sajnekhali last month and all babies are said to be doing well.
Sunderbans Biosphere Reserve (SBR) director, Pradeep Vyas, said "With only a few of them left worldwide and sighting in the wild becoming next to impossible, this breeding programme has great conservation significance globally. All the babies are in good health."
He also added that the eggs were laid on March 16 and then were divided into two clutches. Both clutches hatched last June.
Different Species
Shailendra Singh of Turtle Survival Alliance (TSA), a sister organization of IUCN, said it was recently found that Batagur Baskas found in the coastal regions of India and Bangladesh are altogether a different species and are known as northern river terrapins.
"These are genetically different from the ones found in Malaysia and Indonesia, known as southern river terrapins or Batagur Affinis. Turtle expert Peter Praschag used mitochondrial DNA to reassess the phylogeny and taxonomy of south Asian turtle species, and in the process found that most turtles believed to be Batagur Baska were actually a different species, Batagur Affinis ," Singh said.
Batagur turtles available here are more pinkish in colour compared to their Malaysian and Indonesian counterparts , which are a little greyish.
"While the Batagur Baskas found here have wider eyes with blackish head, the ones found in Southeast Asian countries, known as Batagur Affinis, have greyish head," he added.
Last Hope
There are currently 11 Batagur turtles at the Sajnekhali interpretation centre, including 2 female, 8 male and a juvenile female. All of them were rescued by the local fishermen almost 8-10 years back.
The last juvenile female was caught by fishermen in 2006.
Singh adds that the turtle's population has been receding for quite a number of years. The animals which were once common in Orissa's Bhitarkanika have now become extinct from there.
"Apart from Indian Sunderbans, there are 17 Batagur turtles (5 female and 12 male) at Bhawal National Park in Bangladesh , two females at Madras Crocodile Bank and nine (3 male, 3 female and 3 juvenile/subadult female) in a Vienna Zoo," said Singh.
He says that breeding programmes is a necessity in the case of the turtle as otherwise in would be extinct.
Singh says that last March they made some changes in the interpretation centre's breeding area so that the turtles were more comfortable. It is the added effort that led to the successful breeding.
"Last March, we had visited the centre at Sajnekhali and made some modifications in the breeding ponds, so that the turtles can lay eggs properly. We made some sand banks and basking platforms, as eggs might get wasted if laid in water. We heard that over 20 baby Batagur Baskas were hatched in Bangladesh's Bhawal park too," added Singh.
Interestingly, the Sunderban centre had the turtles for many years but they never reproduced.
Hopefully the breeding programme will continue to add to the dying population of the turtles.
Find out more about the hatchlings and how the team at Turtle Survival Alliance worked to increase the number of these turtles here.
More Related Stories,
Turtles become the Most Endangered Vertebrates in the World
Ghost Fishing Scare at Gujarat coasts
VSPCA saving Endangered Olive Ridley Turtles