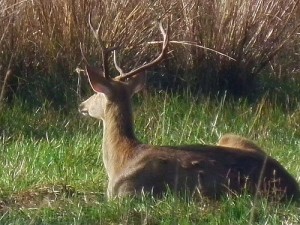 Jhilmil jheel (lake) in Haridwar is fast growing into a haven for swamp deers, thanks to the conservation effort of the state. The Swamp deer population of the lake has increased many folds since 2005 according to the latest census conducted by Widlife Institute of India (WII)
Swamp deer also known as the Barasingha is a highly endangered species protected under schedule 1, of the Wildlife Protection Act of India 1972. It is also included in the red data list of the rare animals of the International Union for Conservation of Nature (IUCN).
In 2005 the Jhilmil jheel in Haridwar forest division was recognized as a natural habitat of the deer and thus efforts began to conserve the area. At that time the population of the species in the lake was a mere 35.
But the latest census reveals that swamp deer population here has now reached a healthy 215 deers with 65 stags, 129 hinds and 20 fawns. These deers live in three groups in the area.
"This is a substantial increase. The male-female ratio, which is about 1:2, is a very healthy sex ratio. There were only 35 swamp deer in 2005 when the Jheel was declared a community conservation reserve", said the subdivisional forest officer, K S Rawat.
Jhilmil Jheel, is a wetland, spread over 3783.5 hectares of land along the bank of the Ganga. It was declared a community conservation reserve for the protection of swamp deer by the Environment
Ministry in 2005 on the recommendation of the state government and the locals involved in the management of the Jheel.
Poaching of the deer was curbed to a large extent after that and families residing within the area were relocated for better safety of the deers.
The WII team members used telescopic lenses to carry out the latest census. The divisional forest officer, Sanatan Sonkar said they are now planning to implant microchips in the swamp deer to study their behaviour and migratory pattern.
Image via Flickr/creative commons by Sumeet.Moghe