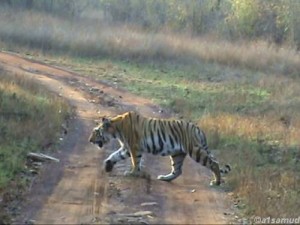 The tussle between environmentalists and urban developers is in the forefront once again in the state of Maharashtra where the National Highway Authority of India (NHAI) is keen to widen the National Highway NH-6 but the expansion might ruin the forest and crucial corridor of the Tigers.
The National Tiger Conservation Authority (NTCA) recently rejected the plan of the NHAI for mitigation of damage to wildlife due to the expansion (four-laning) of NH6.
The NHAI though has already started the expansion work and the only hindrance in their path, so to speak, is the 85 km stretch through the critical Nagzira – Nawegaon Tiger Corridor.
This tiger corridor connects nine crucial tiger reserves in central India and may itself soon be declared a protected tiger habitat. The corridor connectivity presently remains as two narrow strips of forest running almost parallel to each other, connecting Nagzira Wildlife Sanctuary in the north and Nawegaon National Park in the south. The corridor's contiguity is broken by NH 6 crossing East-West.
"This is one of the more important landscapes for tigers, supporting about one-sixth of the world's tiger population," said Dr MK Ranjitsinh, Chairman – Wildlife Trust of India (WTI). 
WTI's state facilitator Prafulla Bhamburkar while working in the Vidarbha Tiger Corridor Securement Project was the first to bring the issue to notice about how the road expansion project was posing threat to tigers as well as other forest animals.
Assisting the Forest Department, WTI with the help of renowned wildlife lawyer – Ritwick Dutta, then approached the Supreme Court's Central Empowered Committee (CEC), which eventually directed the NHAI to stop the work and put in place valid mitigation measures.
The NHAIthen recommended formation of underpasses that could be used by the animals and chain-link fencing other areas to compel the animals to use these underpasses, and stop them from crossing the highway in other areas to prevent road hits.
"This recommendation was literally amounting to narrowing down the corridor further and leaving only a few small passes for the animals," said Bhamburkar.   
Now the Widlife Institue of India has been asked to intervene and come up with a plan that does not harm the crucial animal corridor.
What Bhamurkar also adds is that even the present expansion violates regular norms.
"The FCA necessitates clearance by the National Board for Wildlife (NBWL) for any developmental activities within 10-km radius of the country's protected areas. This was not adhered to," said Bhambhurkar.
Mining, highways, industries, agriculture, the growing list of man's needs is eating away precious land from animals. The present situation from the tiger's point of view is like someone sawing up its home in half and not allowing it to go from one side to the other. Let us wait and see if the beast looses its right to live once again in the name of development. 
Related Stories:
Postage Stamp on Tigers Marks children's Day
Rare Cat Species Spotted at Corbett National Park
Interesting Facts About the Tiger
Reference: Wildlife Trust of India