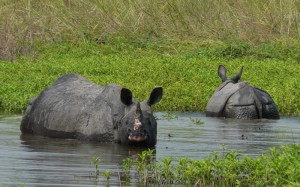 For the first time in the country, Rhinos will be recognized by their unique identity number. In an effort that will help immensely in proper tracking and protection of wild Rhinos, the first unique identity number has been allotted to a Rhino is Dudhwa Tiger Reserve.
Speaking about the project field director DTR Shailesh Prasad said,
"The unique identity numbers have been allotted to every rhino after preparing a complete data base and collecting the distinctive feature of each rhino."
Dudhwa has 28 rhinos in rhino rehabilitation area (RRA) which include six calves, seven male and 15 female.
"This is for the first time in India that unique identity numbers have been allocated to the animals," Prasad said.
He added that the number will help the patrolling team keep a track of the rhinos with no confusion about their identities.
He also said that the similar unique numbering system will also be soon done for the tigers of the reserve.
The rhino rehabilitation programme that began in 1986 in Dudhwa is said to be one of the most successful programmes in the country. While in 1986 there were just 5 rhinos in the reserve, their numbers have grown steadily with the Dudhwa habitat acclimatising well with the introduced rhino population.
India has the maximum rhino population in the state of Assam at Kaziranga and Manas national parks.
More Related Stories,
Squatters and Solid Waste Hindering Kaziranga Wildlife
One Horned Rhino to be Saved from Annual Floods
10 Endangered Species and where to Find them in India
Image via DudhwaTigerReserve