In stark contrast to an imminent threat of losing its UNESCO World Heritage Site status, Manas National Park in Assam has turned out to be a biodiversity hotspot worth saving indeed.  A recent study found that the park is home to at least 20 amphibian as well as 35 reptile species, including some highly-endangered species like the bubble nest frog, green tree frog, blue fan-throated lizard, twin spotted tree frog, water monitor lizard, pope's pit viper, and the king cobra.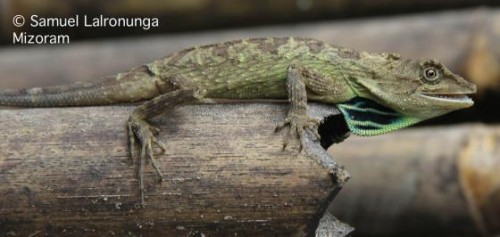 Blue throated Lizard (Ptyctolaemus gularis) Image courtesy Reptarium
The study was carried out by a joint team consisting of scientists from Wildlife Institute of India (WII), as well as researchers from Gauhati Univeristy, and members from NGO Aaranyak. They were joined by researchers from neighbouring Bhutan as the landscape studied covered both the countries.
"The survey has indicated a bewildering herpetofaunal diversity of Manas landscape, much of which is still unknown. What we need now is a series of long-term and periodic surveys to have a better understanding of the species richness and ecology, which will eventually contribute to the conservation of this ecologically important group," said leader of the study team, Abhijit Das of Wildlife Institute of India.
Manas National Park, which covers an area of 520 sq. km in western Assam, flows contiguously into the much larger 1057 sq. km Royal Manas National Park in neighboring Bhutan. The park is important as it holds the unique distinction of not only being a tiger as well as an elephant reserve, but a rich biosphere reserve and an important bird area in the country.
The recent study was carried out across the border on both sides as a trans-boundary conservation initiative funded by respective local authorities. While the rich diversity of mammal and bird species found in Manas National Park is well documented, information on the reptile and amphibian species living in the park is very scanty and limited.
"Most of the herpetofaunal species recorded from Royal Manas National Park are new country records for Bhutan. Interestingly, Manas National Park was found to hold an admixture of Indian, Indo-Malayan and Indo-Chinese elements, some of which are of utmost scientific interest," said Deputy Director of Manas National Park, Sonali Ghosh.
The survey was conducted in a diversity of habitats, viz., semi-evergreen forest, moist deciduous forest and Terai-Bhabar grasslands emphasizing critical herpetological microhabitats. In all of these habitats, sites like forest streams, forest under-storey, rocky areas, and water-logged areas in the interior of forest were sampled mostly using visual-encounter search. The survey was carried out both in day and night hours keeping in view the activity pattern of diurnal and nocturnal species.
The researchers emphasized that as scientists it was bewildering to find so much herpefaunal diversity in the landscape and it only shows that Manas is a much more significant habitat for all kinds of smaller species as well apart from the known mammals like rhinos.
The Indo-Bhutan Manas landscape lies at the juncture of two biodiversity hotspots, i.e., Himalayan and Indo-Burmese biodiversity hotspots. The Indian part of this landscape, specifically Manas National Park, thus was bound to be species rich but it is only now that its significance has been truly understood.
More Related Stories,
Rhino Numbers Increase Under the Shadow of the Poacher's Gun
Rare Golden Langurs Saved by a Ropeway