A recent report by the Union for Conservation of Nature (IUCN) has brought forth the question whether the places declared as World Heritage Sites are really well conserved. The assessment made by the IUCN showed that the sites such as the Western Ghats, Kaziranga National Park, Manas Wildlife Sanctuary and Sunderbans in India are under serious threats and are facing conservation issues.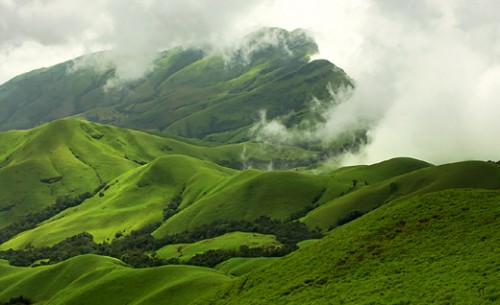 Western Ghats, A UNESCO world heritage site. Image via mangalore today
A UNESCO World Heritage Site is a place such as a forest, mountain, lake, island, desert, monument, building, complex, or city that is listed by the United Nations Educational, Scientific and Cultural Organization (UNESCO) as of special cultural or physical significance.
Findings of the IUCN Report
228 World heritage sites were assessed for natural values in the IUCN World Heritage Outlook report in which none of the seven Indian sites made it to critical category. However none made it to the good category either.
The Great Himalayan National Park, Nanda Devi, Keoladeo National Park and the Valley of Flowers National Park were categorized as 'Good with some concerns'.
The report endeavoured to give recognition to the conservation efforts made for well-managed sites and also to promote the exchange of effective management tactics between the sites. It also made an attempt to identify the more serious conservation issues faced by the natural World Heritage sites and to figure out an action plan to resolve the issues.
Threats to Western Ghats
There are 39 serial World Heritage sites in the Western Ghats which are spread across the states of Maharashtra, Karnataka, Tamil Nadu and Kerala. These were inscribed in 2012.
In the threat assessment of the sites, the IUCN experts recorded that the biodiversity in the Western Ghats is under extraordinary pressure on account of the huge population pressure which is both within the property as well as surrounding it. These sites also face developmental pressure and focussed and intensive management effort is required to ensure that the existing values are conserved as well as any damage that may have been done in the past is remedied.
The report states "The sites that are traditionally conserved by small populations of indigenous people leading sustainable lifestyles, face many challenges. There exist a large number of threats which severely threaten the Outstanding Universal Value of the property. It would require coordinated conservation responses at all levels including political, sociological and biological, to overcome the challengers."
The report identified climate change as another major factor that will further aggravate a system that is already threatened. The perpetual need for development will also continue to put pressure on the property.
The report derived the conclusion that although at the time of inscription, the values in the world Heritage sites of the Western Ghats may have been good, but enough data is not available regarding the current state and trend of these sites. In order to ensure that the values are conserved, targeted monitoring of these sites is the need of the day.
More Related Stories,
New Species of Golden backed Frog Discovered
Eco Travel: Silent Valley National Park Kerala
Tiny Catfish from Western Ghats Baffles Scientists with its Uniqueness