Closely following his discovery of the 14 species of dancing frogs earlier this year, the frogman of India, Professor Sathyabhama Das Biju of the Delhi University, has made yet another exciting find. Seven new species of Golden-backed frogs (Genus Hylarana) were discovered by Biju and his team in the Western Ghats-Sri Lanka global biodiversity hotspot. This discovery has made Biju one of the top three discoverers of vertebrates of this century.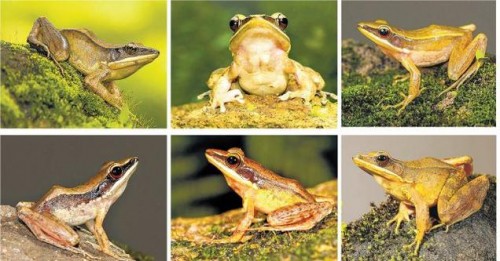 Two species, one name
Originally spotted in Sri Lanka in 1864, the Golden-backed frog was later found in the entire Western Ghats and believed to be widely distributed and common in India. A German-born British zoologist, Albert Gunther described the first species of the golden-backed frog from the Western Ghats-Sri Lanka global biodiversity hotspot and hence it came to be commonly known as Gunther's golden-backed frog.
In these past 100 years or more, the Golden-backed frogs found both in India and Sri Lanka had been misidentified as belonging to the same species. This confusion has now been cleared and it has now been proven by the research team that the frogs in India and Sri Lanka are distinctly different species through the integrated use of morphological and DNA evidence.
As per Biju, the 'Hylarana temporalis' species found in India were so-called only because of misidentification and lack of detailed studies.  In reality, they belong to several separate new species.
The 10-year long surveyhas revealed that the misidentified frogs actually represent six new species for India and one new species for Sri Lanka!
Throwing light over the reason for the earlier confusion, Franky Bossuyt, Amphibian Evolution Lab, Vrije Universiteit Brussel, Brussels, Belgium said,
"Golden-backed frogs of the Western Ghats-Sri Lanka biodiversity hotspot had not been studied in a rigorous and systematic way for long. As a consequence, only a handful of species were known and there were many obvious confusions about Indian and Sri Lankan frogs in the literature."
The new species now have a distinct taxonomy. More importantly, since the mainland and the island species are morphologically and genetically different from the original form as described by Gunther, it is now evident that both need to be conserved.
A surprising find in the city
Golden-backed frogs are chiefly a forest species. Therefore it was quite a surprise that one of the new golden–backed species (Hylarana urbis) was found in a lake amidst the hustle and bustle of the city of Cochin. Professor Biju Das regarded this anomaly and said that this clearly shows that unrecognized species diversity can be found not just in the forest areas of Western Ghats but is sometimes close to our homes.
He further added that the species discovered from urban areas is found in highly disturbed habitats which poses a higher risk to them because of their proximity to human activities and hence they require more attention and need to be conserved.
Frogs – A Bio-indicator species
Frogs are exposed to multiple environments of land and water throughout their life cycle from a tadpole to an adult. This makes them very vulnerable to the slightest changes in the environment. They are therefore very important Bio-indicators, i.e. the indicators of the health of our environment. While several projects backed by big financial arrangements are being launched everyday to save the mega fauna, little is being done to conserve the equally important amphibians.
Asad Rahmani, the director of Bombay Natural History has rightly said,
"Biju's discoveries and other recent finds from India further proves how much we do not know about our biodiversity. In the race for saving 'sexy' mega-vertebrates, we are losing sight of other fauna and flora that are important for the health of our ecosystems. The government and conservationists should give more attention to the protection of all wildlife, particularly globally threatened and endemic species, not only tiger, elephant, rhinos, etc."
More Related Stories,
Frogs in Western Ghats Affected by Logging even after 40 Years
New Species Discovery: A Doting Frog Father
How Children can Get Close to Nature
(Visited 373 times, 1 visits today)