Bored of the mundane daily routine with pollution and traffic? The stress and pressure of modern lifestyle catching up with you? What better solution then, than to visit a green area in your city to soothe your senses and rejuvenate your spirits. So if you happen to be in Kolkatta, Chintamoni Kar Bird Sanctuary is just the place for you.
Chintamoni Kar Bird Sanctuary (CKBS) is about 11 kilometers away from Kolkatta City. It is located in South Kolkata near Narendrapur Ramakrishna Mission. The sanctuary is quite small, only a mere 17 acres.
Once, an old orchard known as Kayaler Bagan the place was notified as Abhayaranya or a Sanctuary in 1982. It was still privately owned though and was acquired by the West Bengal Government and thrown open to public only in 2005. It was then that it was renamed as Chintamoni Kar Bird Sanctuary after the famous sculptor Chintamoni Kar who along with the NGOs and locals fought for years to procure the wildlife sanctuary status for Kayaler Bagan. Homage to the man bestowed by the West Bengal government now proudly stands at the entrance of the Bird sanctuary.
The Experience
The sheer convenience of getting to the place easily makes it a very attractive option for a day trip. The sanctuary gates open at 8.30 am and that was precisely when my friend and I hopped down from our rickshaw to enter the sanctuary.  The small Iron Gate was partially hidden by the leaves and branches of various trees, plants and creeper giving us time to appreciate the beauty of the sight. 'Now this is the way, all sanctuary entrances should look like', I thought as we walked in.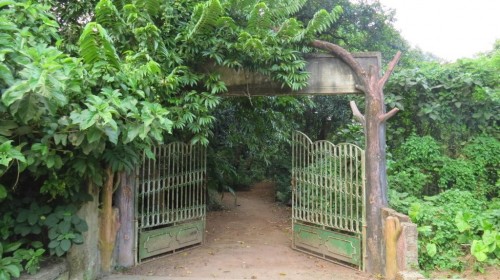 We had barely walked a few meters inside when our mouths fell open again…for standing amidst all the greenery was a pretty little cottage with a thatched roof. It seemed as if the forest trees themselves had lovingly showered their leaves on the roof and around the cottage and decorated their guardian's abode. This was actually the office from where we had to buy the tickets for the Sanctuary visit.
Even from outside the gate we could hear chitter chatter of feathered residents, but on stepping inside, the chirping and chattering of the inhabitants grew eclectic. Overall, the narrow trail flanked by trees and plants on both the sides looked very promising.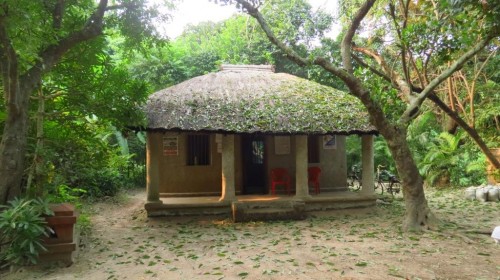 We bought the tickets from the guard. The tickets cost Rs 15 per person. There were no camera charges. We asked for a guide, since a notice on the office wall said that a guided tour was possible, but the guard informed us that no one was available that day and we could do the tour on our own, since it was a fairly small place and there were officers patrolling inside anyway.
We thanked the guard and started the trail. Since the site of the sanctuary was once an orchard, there were a number of trees of Coconut palm, Jackfruit, Guava, Tamarind, Ficus and even Bamboo.
 We walked another few meters and stopped again. This time we were both awed and a bit wary. On the bark of a tree ahead of us, was a huge nest! A hornet's nest! It was a huge papery structure and had large hornets crawling over it. Later we found out that it was the nest of the Lesser Banded Hornet or the Vespa affinis. Although we longed to observe the hornet's from a close range, we were scared of being bitten and therefore maintained a safe distance from the nest and took the pictures. It was just as well, that we stayed far, for Hornets are known to be aggressive and their sting is much more painful than a Bee's sting.
 We walked away from the nest soon.
For the next couple of hours we happily explored the forest and saw many birds, although we were not able to capture them all in the camera lens. It soon became clear from their incessant chattering, that Jungle Babblers dominated the place.
Chintamoni Kar Bird Sanctuary is home to a variety of birds which include the Black-naped Monarch, Rufous Treepie, Jungle Babbler, Asian Paradise Flycatcher, Common Hawk Cuckoo, Orange-breasted Green Pigeon, Emerald Dove, Streak-throated Woodpecker, Orange-headed Thrush, White-throated Fantail, Crested Serpent Eagle, Large-tailed Nightjar, Ashy Wood Swallow, Lineated Barbet and Greater Flameback.
Besides the birds, one can see a variety of trees, butterflies and other insects as well. One edge of the Sanctuary is fringed by Banana Plants and tall grasses and bounded by a water body. Since the forest area is small, it can be covered very easily in a couple of hours. But bird watching enthusiasts will know that spotting the birds in a dense forest is not an easy task and even a relatively small area can turn into a day long expedition if you fancy birds. A warning though, there are no lodging facilities inside the Sanctuary itself, so plan a day trip only.
Another interesting place that one can visit, that is very close to the Sanctuary is Bhaskar Bhavan. The place contains a very good exhibit of the works of art created by Late Chintamoni Kar. It houses a number of paintings, sculptures and drawings created by him during his lifetime. These were donated by the artist himself to the Government of West Bengal in November 1995.
The Chintamoni Kar Bird Sanctuary offers a nice respite for urbanites to feel the magic of nature.
More Related Stories,
Quick Action saves Slow Loris from Becoming Food
Phansad: The Lesser Known Wilderness
Pictures: From Wild Bear to Family Pet 
Image via cc/Flickr by kgabhi and tjparpan. Other images by Shilpi Gemawat.
(Visited 1,373 times, 1 visits today)