Those who have read Jungle Book are not unfamiliar with Balu, the black bear, Mowgli's friend, philosopher and guide. You might have sometimes even wished that you too had such a friend. But while we all can't turn into Mowgli, one family in Lakhpada did get lucky when they adopted a stray black bear and made him a member of their loving family.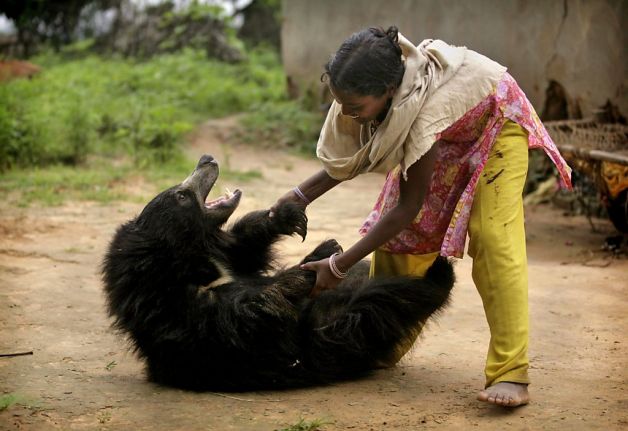 Named Budu, the 1 and a half year old bear first came into limelight on August 16th when his pictures featured in all leading newspapers of India and the world.
It is said that Budu is a sloth bear who as a baby came to the village Lakhpada is Orissa following the sheep. The Kisan family spotted him and instead of shooing the wild beast away, adopted the cuddly little fellow.
Soon Budu became an integral part of the family, enjoying the pampering and basking in the attention he received from all the family members.
There is interesting story behind his name. Sometimes when he did not wish to move, the bear would just freeze into a statue and let himself be lifted by Ghasiram Kisan and his son. They thought this mannerism was like Lord Budha in one of his meditative poses, that's why the name Budu.
Apart from his spiritual poses, Budu also loved the beauty treatments he received from Juli Kisan and their game of belly rubbing and wrestling.
On August 17th though forest officials took Budu away to relocate him back to the forest he belongs.
Wild animals are finally happier in their wild surroundings and though Budu's human interaction was brief, the pictures of the affection he shared with his human family, will surely evoke much appreciation from those who themselves crave for such bear hugs.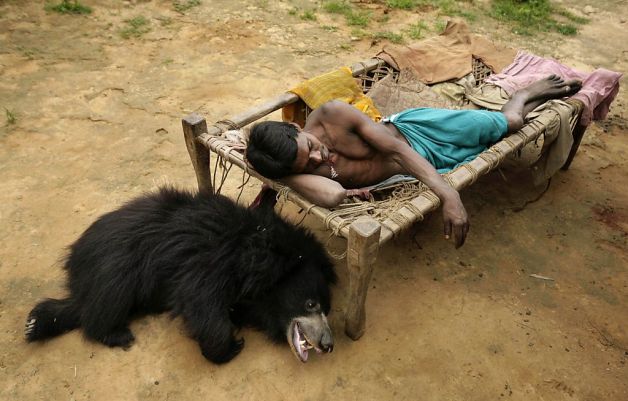 If you too wish to someday have a sloth bear friend, why not contact Wildlife SOS who are doing an outstanding job caring for rescued sloth bears.
More Related Stories,
Angry Mother Bear scares Tiger in Ranthambore
Brown Bear Mother and Cub Caught on Camera in Kargil
British Vets Give Eyesight Back to Rescued Indian Bear
All images by Biswaranjan Rout, Associated Press
(Visited 383 times, 1 visits today)