In an incident in the Bhoothikuppai forest area in Erode, Tamilnadu, an elephant that was caught in a 5-feet deep marsh for 20 hours was rescued by the villagers. The elephant was a member of a herd returning to the forest from Moyaru river through the Bhoothikuppai forest area.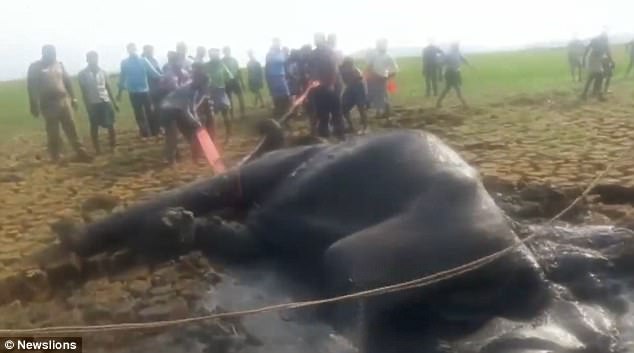 The elephant, believed to be a 15-year old, could not see the marsh in the dark and was trapped in the slush. Hearing her trumpeting out loud in despair, other herd members rushed to assist her. According to villagers, the elephants kept trumpeting off and on as they unsuccessfully tried to pull their herd mate out of the marsh.
Read More: Eco Friendly Paper Made Of Elephant Poop Is Here
At dawn, the other members of the herd started abandoning the elephant one by one to move into the forest.
The villagers residing in nearby villages heard the cries at night, but did not venture out into the forest in the dark. However, they prudently informed the forest officials at night and were at the spot at daybreak. As they waited for the rescue team, they kept the elephant engaged by offering food and water. The elephant was then slowly lifted out using a rope.
Read More: Crowd Make Way For Elephant To Rescue Her Calf
P.G. Arunlal, the man in-charge of the Sathyamangalam Forest Division, said: 'The elephant had been stuck in the water for more than 20 hours, so we thought it would be wise to offer her something to eat. We offered her jaggery, sugarcane and banana. The animal consumed them all and started slouching up. The personnel lifted the animal out of the marsh with the help of a rope. It was fed with water and other items and let into the forest.'
Watch The Rescue Operation
A video showing parts of the rescue operations has emerged. Groups of men were seen pulling on either side of the rope and moments later the hind legs of the elephant emerge a little in the open. The video clip then shows the hind legs emerging completely out of the mud and the forest rangers giving a push from behind to help it stand. Later, the elephant is seen slowly and cautiously taking her first steps after having been stuck in the marsh for hours.
Video and Images via Dailymail
Read More: A Simple Test Just Proved Again How Smart Elephants Are