A highly tragic incident has been reported from Assam, where a female elephant was electrocuted after coming in contact with live wires. The baby that the young female was carrying was also lost in the mishap. The live wires were set up at a riverine island near Borgang river of Assam's Biswanath district, about a kilometre from the sixth addition of Kaziranga National park.
Forest officials believe that it was not an accident and was done deliberately to harm the elephants.
"It's a deliberate case of electrocution where the solar fence was powered from the AC main line instead of going through a battery powered energizer," said P Sivakumar, conservator of forests, northern Assam circle, Tezpur.
This is one of many such incidents in recent times where a number of young adult elephants have been killed. The effect of this incident might have far-reaching consequences as this means that an entire generation of elephants capable of breeding and propagating their numbers would be lost.
Read More: Elephant Rescued from Marsh By Villagers in Tamil Nadu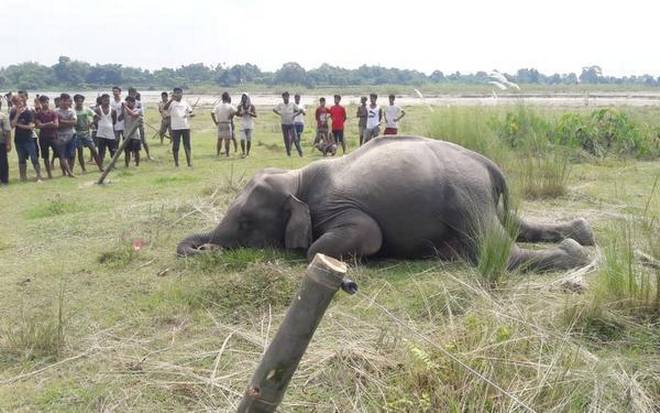 Wildlife conservationist Kaushik Barua said, "It seems from the last few incidents that a large number of young adult elephants are being killed. These were elephants which would have bred – an entire generation of elephants are being lost due to such ghastly acts by humans."
A complaint has been lodged against the villager of Kathonibari area who allegedly laid the 220-volt live wires. A post-mortem report will throw more light on the details of the tragedy.
According to local residents in the area, a herd of 50-60 elephants had wandered into the area in search of food. The forest department had already taken measures to secure crop fields from marauding elephants.
Read More: Direct Count Survey Reveals 682 Elephants in Bengal
According to Mr. Barua, power fences are not a good solution to solve the problem of elephants rampaging crops. A mechanism should be put in place that does not pose a threat to elephants and yet save crops.
"Proper equipment and permissible source of power needs to be ensured," said Barua.
In a separate incident last week, an abandoned elephant calf was rescued by forest officials in the same area.