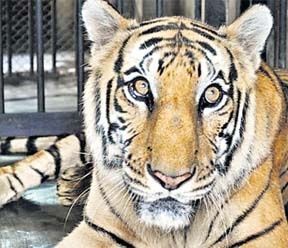 He may be a terror on the cricketing field owing to his fast pace bowls, but cricketer Zaheer Khan was himslef bolwed over by a tiger at the Mysore Zoo recently.  The regal 'Brahma', a Tiger of the Jayachamarajendra Zoological Park in Mysore impressed the cricketer so much that he decided to adopt him.
The Jayachamarajendra Zoological Park or the Mysore Zoo, as is popularly referred to, is one of the oldest and largest Zoos in India. Brahma is an eight year old male tiger at this zoo.
What prompted Zaheer Khan to this noble gesture were the majestic pictures of Brahma, the big cat. He has deposited a cheque for Rs.1Lac with the authorities towards maintenance of Brahma for one year. They have sent the adoption papers to Zaheer Khan. Earlier Javagal Srinath adopted a Jaguar and Anil Kumble a Giraffe, of the same zoo.
Other cricketers are also evincing interest in such adoptions both at Mysore Zoo and Banneraghatta National Park-Bangalore.
According to Jayakumar, member secretary of CZ A or the Central Zoo Authority, "There have been enquiries, but I am not in a position to divulge anything as yet. Things are going in a positive way and we will soon know if other cricketers come forward and adopt more animals".
Javagal Srinath intends to extend his adoption of Jaguar for one more year and Anil Kumble has already  extended  his adoption of the Giraffe.
These gestures might result in more people, particularly celebrities coming forward to adopt more animals.
News source Image courtesy news source
 Know Interesting Facts about Tigers