---
Quick Notes
Raids conducted in different parts of the state in June reveal 6 cases of large wildlife seizures in just a month
Wildlife trades include rare and protected species like the pied hornbill, slow loris, great Indian hornbill, bear, tiger, tokay gecko etc. 
Bengal is used as a hub and a transit point by smugglers to trade and send animals to neighbouring countries.
Cumulative value of everything seized in the last 18 months could run into hundreds of crores in international market.
---
Despite all the efforts by the government, wild life authorities and a number of conservation groups, illegal trade in wildlife seems to thrive. In just a month, about six cases of seizure and arrest were registered by Wildlife Crime Control Bureau (WCCB), Directorate of Revenue Intelligence, special task force of West Bengal forest department and local police.
A raid conducted in a house in the crowded Manicktala area of North Kolkata on June 29th led the team of officers from WCCB to a pathetic sight of two pied hornbills and a slow loris crying in agony from within two compartments of a tiny iron cage. Apart from these, they also rescued three great Indian hornbills. All of these species are protected under Schedule I of Wildlife Protection Act, 1972. Two men were arrested for the crime.
Read More: A Creative New Way to Save Endangered Species Caught in Wildlife Trade 
This was not the first such case for this bureau, which functions under the Union Ministry of Environment, Forest and Climate Change. At least 6 cases of seizure of wildlife parts were registered  in June in different parts of Bengal. Many of the species were of foreign origin and smuggled into India because of the hefty price they fetched.
Seizures made in June include different types of hornbill, rosella bird, concure, parakeet, macaw, pygmy falcon, duck, hoolock gibbon, tokay gecko and palm squirrel. Ivory, weighing more than 3.5 kg was also seized in June by the special task force.
Agni Mitra, deputy director of WCCB's eastern region that covers 10 states from Bihar to Mizoram had this to say. "Probably it had been the trend for some time but results of increased vigilance indicate that West Bengal has become eastern India's biggest hub for smugglers dealing in endangered animals and animal parts. Bengal is also used as transit point for smugglers operating between India and neighbouring countries."
The Bengal Connection
The joint cooperative effort of different agencies has helped in a huge way. WCCB, apart from conducting its own operations; acts as coordinator between different state and Central agencies, including Customs.
"Sharing information is crucial. Over the past two years, Border Security Force (BSF) and Sasashtra Seema Bal (SSB) have also carried out raids with success," added Mitra.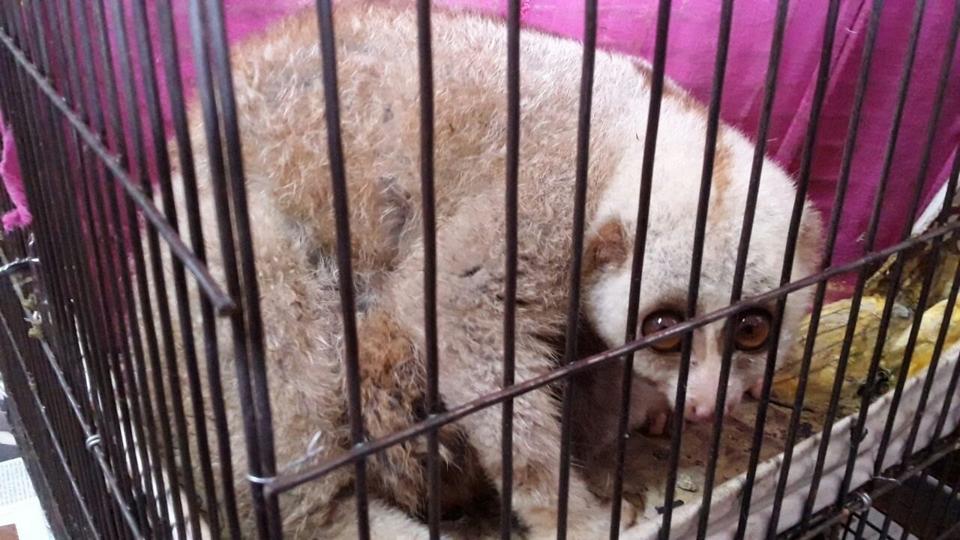 According to Government records, between November 2016 and June 2018, as many as 114 cases have been registered by different enforcement agencies in 10 states in east and north east India. Of these, Bengal tops the list with 54 cases followed by Assam with 38. Around 15 were registered in Meghalaya, Nagaland, Manipur and Arunachal Pradesh.
Read More: Short Film Documents India's Illegal Wildlife Trade
According to the Additional director general, Directorate of Revenue Intelligence, Bengal seems to be the hub of such illegal trade in wildlife. "Some seizures we made in other states also had a Bengal connection. For example, a man from Bengal was involved in smuggling of the ivory that we seized in Assam a few months ago. Bengal seems to have become the centre of this trade,"
Deepankar Aron, additional director general, DRI, said in Kolkata. "We have seized many exotic foreign species such as African pigmy falcon and macaw," added Aron.
Big Money 
The magnitude of the crime is not only in terms of the loss of precious wildlife, but also in terms of the hundreds of crores of illegal revenue in the international market. While Mitra refused to put a commercial value to the animals or parts seized, saying everything was "priceless" as far as the government was concerned, a Customs official in Kolkata said cumulative value of everything seized in the last 18 months could run into hundreds of crores in international market.
"In September 2017, Bengal CID and BSF seized snake venom worth Rs 100 crore from Barasat in North 24 Parganas district. In May 2017, SSB and Customs seized snake venom worth Rs 70 crore from Siliguri," a senior customs official said.
"Exotic pets have no fixed price. The trade is flourishing because some people will happily splurge on certain birds or monkeys," he added. "In China, there is a huge demand for animal parts, especially those of the Bengal tiger, because the Chinese believe these have medicinal value. We have seized pangolin scales, tiger parts, sea cucumber, sea horses and even bear bile from different eastern states including Bengal. Since many rhino poachers have been gunned down by forest guards in Assam, Myanmar has now become a source of rhino horn," said Mitra.
Rescued animals and birds are handed over to zoos but many die while being smuggled. The rest are killed as either these are eaten or their body parts are what smugglers are after.
"Some animals face torture too," said Mitra. "Tokay geckos, for example, are sometimes injected with mercury or get pieces of metal forced into the skin so that they look different. The lizards don't survive," said Mitra.
Among Indian species, birds such as parakeets are caught in hundreds only to be sold as pets, officials said. Turtles and tortoise, on the other hand, are caught in even larger numbers, mostly to be sold as food or components of Chinese medicine.
On May 1 this year, BSF recovered 100 kg of semi-dried turtles and tortoise bones from Farakka in Bengal. During the same month, Bengal CID and WCCB seized 2,499 turtles from a truck not far from Kolkata. The haul included 700 dead Indian soft shell turtles. These were allegedly being smuggled to south-east Asian countries through Bangladesh where turtle meat fetches high price.
Wildlife traders seem to fancy all sorts of exotic and endangered species. Even the best of efforts by the authorities seems to leave the poachers and traders undeterred in their pursuit of this trade in animals due to the heavy demand and huge margins of profit.