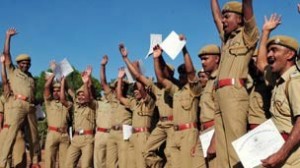 Poachers have a new threat in the jungles of Karnataka and Tamil Nadu – Trained and armed commandos ready to tackle anything and anyone up against the endangered tigers.
The government of Karnataka announced recently the deployment of 54 commandos under the special Tiger Protection force who will be patrolling the forests of Bandipur and Nagarhole National Parks falling in Karnataka and neighboring state Tamil Nadu.
These men include forest rangers and have undergone three month long strict training including weapon training and jungle survival techniques.
"We plan to induct an additional 54 personnel into the force for deploying in the other three tiger reserves across the state," said BK Singh, the state's principal chief conservator of forests. "They will also undergo physical training, unarmed combat, training in using weapons, field engineering [and] map reading," he added, hailing the initiative as the first of its kind in India.
In the last census conducted in 2010 it was found that India's tiger numbers have grown from 1411 in 2006 to 1706. Leaving Madhya Pradesh behind, Karnataka has now become the state with most tiger population in its six reserves with the number of wild tigers estimated to be 300.
What the good news of increased tiger numbers has also brought in the forefront is the increased fear of poaching, and tigers being killed by groups part of international smuggling gang.
According to state records since 2006, 50 tigers have died in Karnataka half of them killed by poachers, with the carcasses sold for use in traditional Chinese medicine.
The National Tiger Conservation Authority (NTCA) has set aside 500 million rupees to raise, arm and deploy similar squadrons in 13 tiger reserves across India.
Related Stories:
Madhya Pradesh Gears up to save Tigers in their New Home
Karnataka may Get India's First leopard Safari
Image courtesy BBC