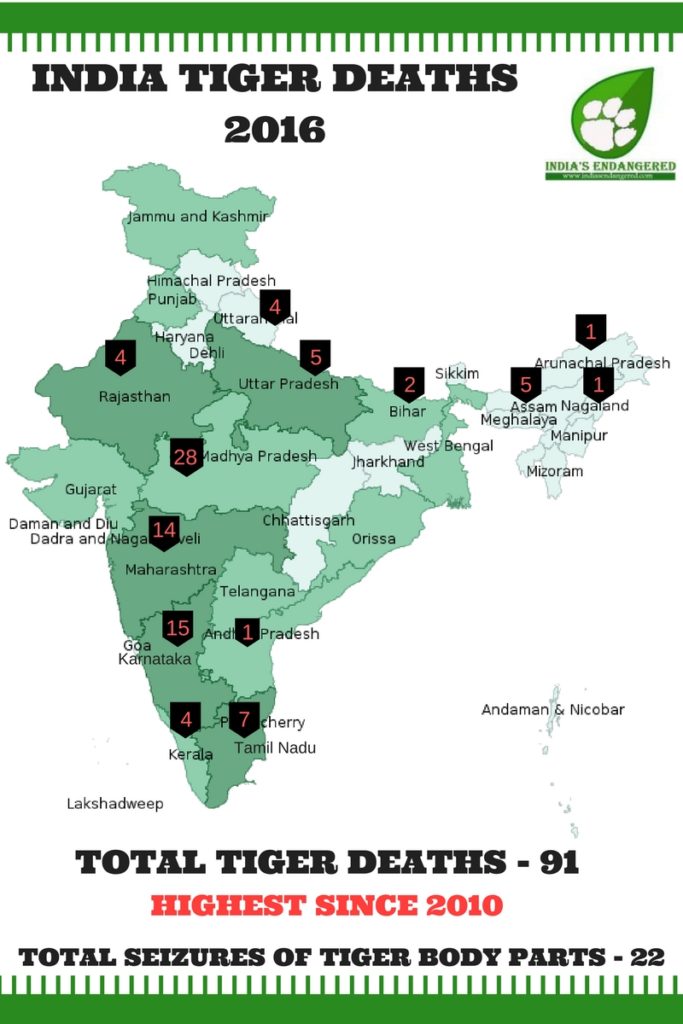 91 wild tigers have died in India this year between January and 11th December. This is the highest number of deaths since 2010 and sees a 25 percent increase in tiger mortality from last year.
The data was released by 'tigernet' – a collaborative effort of the National Tiger Conservation Authority and TRAFFIC India, a wildlife trade monitoring network. The major reasons for the tiger deaths include poaching, poisoning and natural deaths.
As per the data the highest number of deaths took place in Madhya Pradesh followed by Karnataka and Tamil Nadu. See the above infographic for details.
Shekhar Kumar Niraj, head of TRAFFIC India says that high rates of tiger deaths due to poaching was observed between the months of August and November and each year these are the months when the mortality rate increases. The reason for this is unknown. He also observed that the areas bordering Madhya Pradesh and Maharasthra have been more prone to tiger poaching.
This year 22 tiger body parts seizures have been made by authorities which is almost double of the seizures made last year. While the strong message the seizures are sending to wildlife traders is good, it still is a big indication of how grim the situation is for tigers in India.
Direct or indirect human intervention have led to 35 tiger deaths this year including poaching, poisoning, electrocution, road accidents and elimination by authorities when tigers were posing a threat to human lives.
In April this year, a report by WWF and Global Tiger Forum announced that the number of tigers in India had risen to 2500 from 2226 recorded in 2015. However, with almost a 100 tigers lost this year, a strong resolve and a workable action plan to protect the present population will only ensure that 2017 keeps the tiger deaths due to human intervention under check.
More Related Stories,
Camera Traps Reveal Rising Number Of Sunderban Tigers
E-eye To Be Brought To All Sanctuaries To Keep An Eye On The Tiger
Tiger Rising: Celebrate With Caution