Each year, the Northeastern states of India, especially Assam is inundated by a severe flood during monsoons caused by the river Brahmaputra, one of the mightiest rivers in the world. What follows is massive landscape changes, displaced locals and huge economic loss to the state. Kaziranga National Park, a world heritage site located in Assam faces the annual deluge too. The following pictures recreate the story of the flood in this protected reserve and how some use the tragedy to extend their helping hands while others use it to abuse wildlife.
The two main rivers Brahmaputra and Barak with their 48 major tributaries and innumerable sub-tributaries are the reasons behind the annual floods.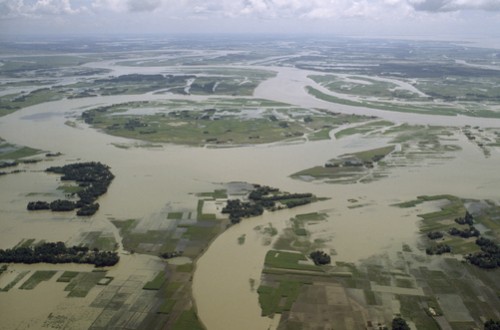 Image via natgeocreative
During the third week of August this year, several areas in Assam was inundated due to floods in the Brahmaputra, Beki and other rivers. These satellite images show the entry of flood waters to the Kaziranga National Park with the rising level of the river.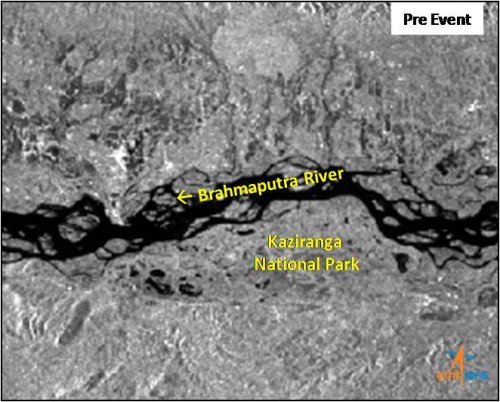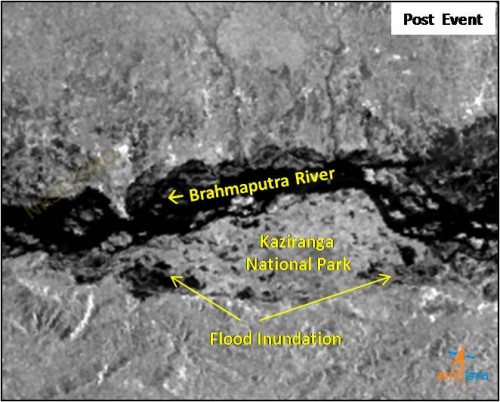 Image courtesy nsrc
With rising water levels, the most iconic animal of the park, the one-horned rhino is left with no choice but to wade through the water and look for refuge in higher level grounds. Invaraibly, it also becomes vulnerable to the poacher's bullet on the look out for rhino horn.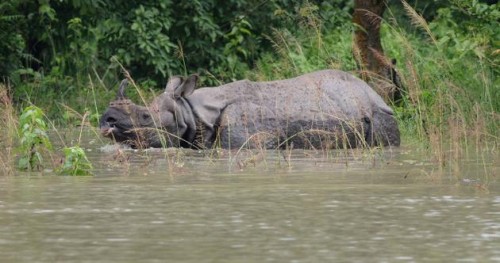 Buffaloes try to run to safety. Almost 80 per cent of Kaziranga's 858 sq km area was submerged this year.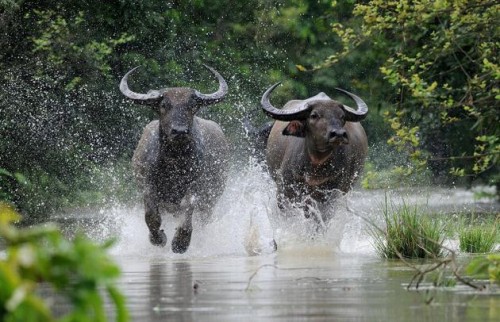 An elephant calf tries to keep up with its mother hardly able to keep its head above the water.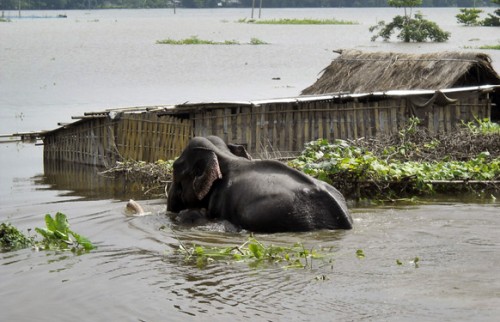 The floods result in the untimely death of a rhino as it's horn is brutally cut off and the animal left to die amidst the submerged forests. A forest guard comes to check the aftermath of the tragedy. So far, 9 rhinos have been killed in Kaziranga by poachers. In the last decade 115 rhinos have died in Assam with the problem of illegal wildlife trade gradually increasing.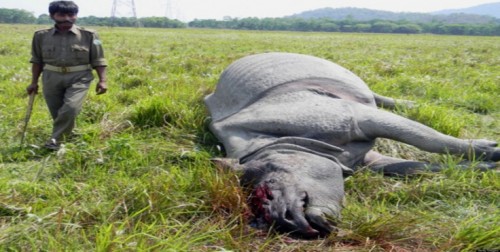 Image courtesy tntmagazine
Mahouts try to divert an elephant from the floods.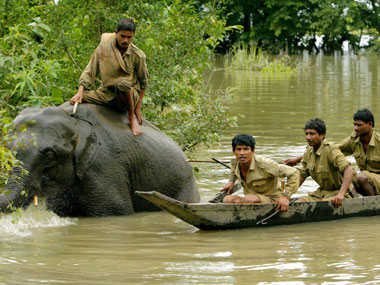 A female rhino stuck in slush pit with rescue attempts by locals and forest rangers.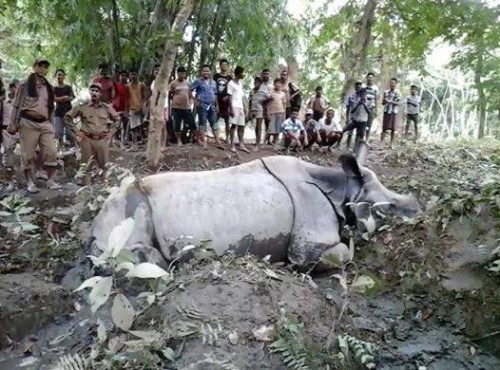 Animal trying to move to higher lands are often faced with another challenge – highway traffic. Warnings are issued by government to lower the speed of vehicles especially during the annual floods, but wildlife road-kill is still prevalent.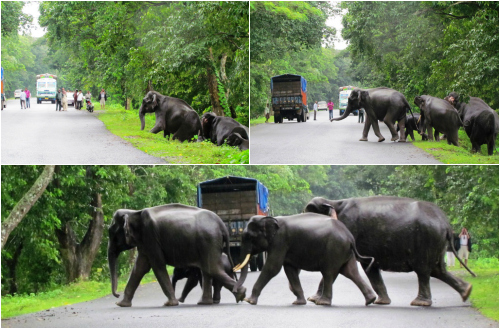 Image courtesy Wildlife Trust of India
One of the many hog deers rescued by conservation organization International Fund for Animal Welfare (IFAW) and now released back into the wild.  Since the beginning of the monsoon floods the IFAW and Wildlife Trust of India's (WTI) four mobile units joined forces with the Kaziranga forest authority and local people to rescue 33 wild animals.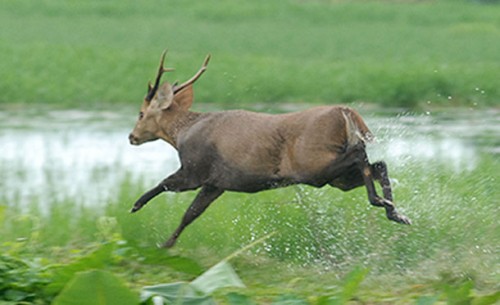 Image courtesy IFAW
A month after, floodwaters are yet to recede from Kaziranga National Park and 30% of the park is still under water. But life seems to go on for the wild animals, battling natural and man-made hazards everyday.

More Related Stories,
Not Just Rhinos, Reptiles too in Plenty at Manas National Park
Assam Rhino Numbers Rise Under the Shadow of the Poacher's Gun
Barbaric Poachers Take a Rhino Life Yet Again