A monthly focus on one of the many wildlife sanctuaries and national parks of India
Hollongapar Gibbon Wildlife Sanctuary in Assam, erstwhile known as Hollongapar Reserve Forest is so named after the major species of trees found here, Hollong (Dipterocarpus macrocarpus) which form the ideal habitat for the only apes found in India, the endangered Hoolock Gibbon.
Species to Watch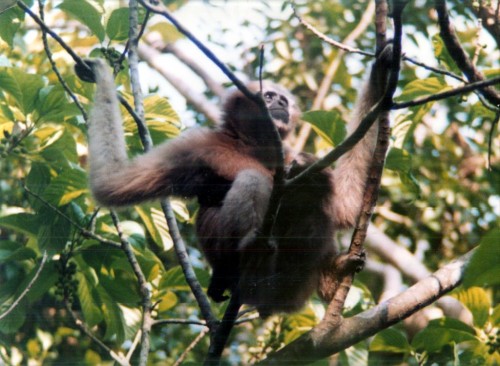 Female Hoolock Gibbon up a Hollong Tree
Western Hoolock Gibbon (Hoolock hoolock) – Listed as Endangered on the IUCN list and the only ape species found in India.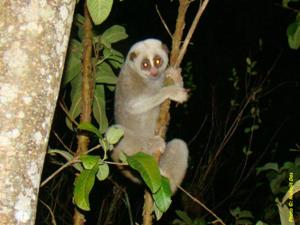 Bengal Slow Loris, Image via rufford.org
Bengal Slow Loris (Nycticebus bengalensis)-Listed as Vulnerable on the IUCN list and the only nocturnal primate found in North East India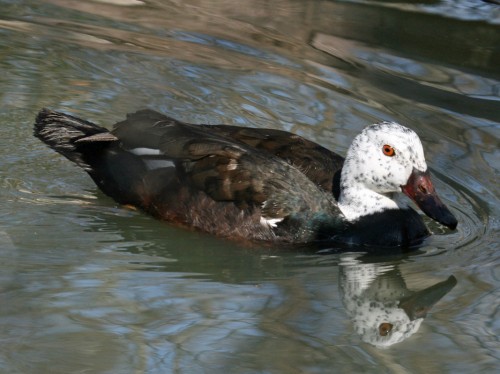 White-winged Wood Duck, Image via Wikimedia
White-winged Wood Duck (Asarcornis scutulata)-Listed as Endangered on the IUCN list
Find on the Map
The Sanctuary is located between 26°40′ – 26°45′ North Latitudes and 94°20′ – 94°25′ East Longitude. Spread over an area of 20.98 sq. kms, the sanctuary is situated at Mariani, in the Jorhat district.  It is at a height of 100-120m from sea level.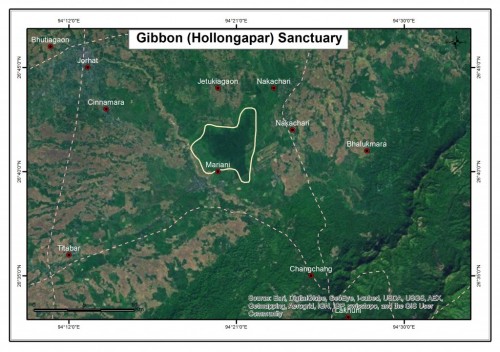 Ideal time to Visit
October to March
Things to Know
About the Park
Declared a sanctuary in 1997 by the Assam Government, the Hollongapar Gibbon Wildlife Sanctuary was at one time interconnected with the Nagaland forests. Tea gardens and human settlements however have now fragmented and isolated this Sanctuary from other forests. Railway lines passing through the sanctuary have further fragmented the Sanctuary and are responsible for animal deaths too. Other threats include tree felling and encroachment.
Climate
Summer: 15 – 28 oC
Winter: 7 – 18 oC
Rainfall – 249 cms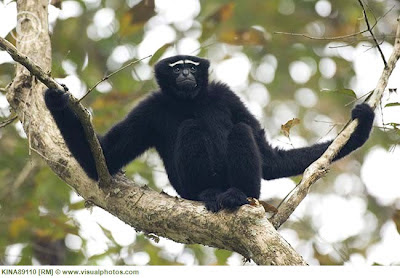 Male Gibbon, Image via natureindiatour.blogspot.com
Habitat type
The Hollongapar Gibbon Wildlife Sanctuary consists of evergreen forest with different layers of vegetation. The tall Hollong Trees (Dipterocarpus macrocarpus) form the upper canopy of the forest and the middle canopy is dominated by the Nahar trees (Mesua ferrea). Evergreen shrubs and herbs form the lower layer of canopy.
Flora
Along with Hollong and Nahar, other major flora found in the sanctuary includes Ou Tenga, Amari, Amora, Bon Aam, Kath Badam, Sashi, Sam, Kothal, Ajar, various varieties of Bamboo, Orchids, ferns etc.
Fauna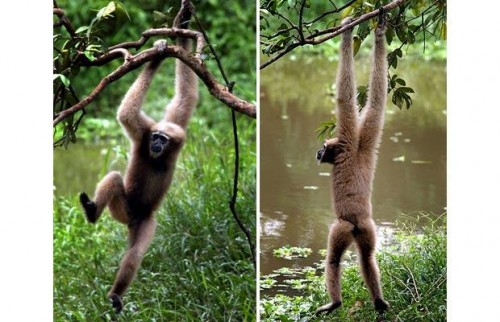 Image via telegraph.co.uk
The sanctuary is known to have seven non-human primate species which include the Western Hoolock Gibbon, Slow Loris, Capped Langur, Stump-tailed Macaque, Northern Pig-tailed Macaque, Assamese Macaque and Rhesus Macaque. Other animals found in the sanctuary include the Leopard, Leopard cat, Jungle cat, Wild boar, Asian Elephant, Civet cat, Barking Deer, Sambar Deer, Chinese Pangolin, Malayan Giant Squirrel, Hoary bellied Squirrel, Indian Python, Indian Cobra, Cat Snake, Mongoose, etc.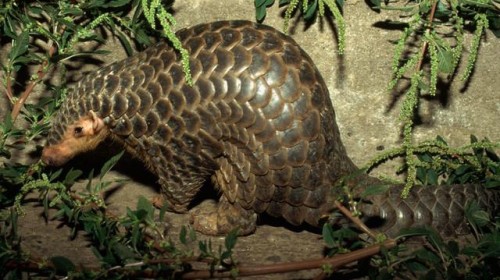 Chinese Pangolin, Image via tufts
Recognised as an Important Birding Area, the sanctuary is the abode of several resident and migratory bird species. The avifauna found here includes Red Jungle fowl, Kalij Pheasant, Ruddy Shelduck, Common Teal, Rufous Woodpecker, Lesser Yellownape, Racket tailed Drongo, Hill Mynah, Indian Pied Hornbill, Speckled Piculet, Ashywood Pigeon, Crested Serpent Eagle, etc.
A lesser known fact about this Sanctuary is that several species of rare birds are also found here, namely the Lesser Adjutant (Leptoptilos javanicus) which is listed as Vulnerable and scavengers such as White-rumped Vulture (Gyps bengalensis) and Slender-billed Vulture (Gyps tenuirostris) which are Critically Endangered on the IUCN list.
Safari Information
Safari into the park is on foot.
Entry charges -INR 250 per person
Guide charges – INR 250 per person
Camera Charges – INR 500 per person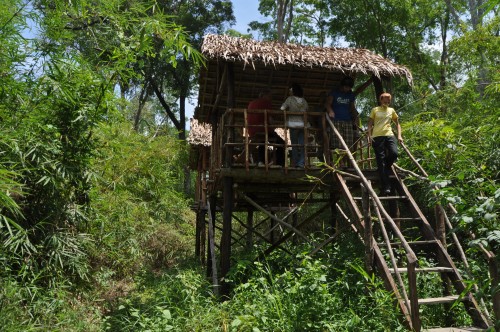 Watch tower at the sanctuary, Image via 2nomads1narrative
Accommodation
Forest Rest House is available for stay inside the sanctuary. Tourists can also stay at any of the
Hotels available in Jorhat.
How to Reach
Nearest Airport – Jorhat Airport is about 25 kms away from the Sanctuary.
Nearest Railhead – Mariani Railway Station is 5 kms away from the Sanctuary.
Expert Traveller Tips
Plan your trip in advance, as prior permission from the Divisional Forest Officer is required to visit this Sanctuary.
Early Morning is the best time to view the Gibbons as they are most active at that time.
Do wear leech socks and carry salt or tobacco to sprinkle on the leeches, specially if you are visiting the park after the monsoon.
From the Archives
Interesting Facts about India's Only Apes: Hoolock Gibbons
Slender Loris on the Hit list of Poachers
More about the Red List status of Hoolock Gibbons
Hoolock Gibbon, IUCNRedList
Watch the Video
Reference
Enajori, Birdlife, IJSER, Assam Times, Conservation India, Assam Info, Bharat Online, Tripadvisor