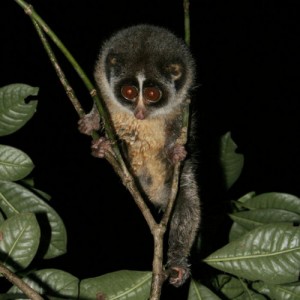 Slender Lorises are the little known primates found in the southern states of India, especially in the Western Ghats and Karnataka. Till date very little is known about these nocturnal creatures, their habits or even their population. But now experts fear the species is under threat from poachers who are killing them in hundreds.
B K Singh, the Principal Chief Conservator of Forests (Wildlife) of Karnataka is a worried man. He feels that the slender loris population is increasingly being targeted by poachers in the state, but without sufficient data, the forest department is not able to save the species.
"The deteriorating habitat and man's greed to hunt these animals have added to their problems. There is a healthy population of Slender Loris in the State, however, any decision to conduct census has to be taken up by the Wildlife Institute of India, Government of India, as we have no authority to do this survey."
Singh also says that there was a proposal to make slender loris the state animal of Karnataka but it was not accepted by the wildlife board.
What the animal presently needs really is not a decorative title but enhanced conservation and protection and the first step towards that is by learning more about the species.
Slender Loris are the cousins of Slow Lorises found in north Eastern state of Assam. The primates do not have prominent monkey like features though they are arboreal in nature. They eat fruits, small insects, bats and even small animals if they can hunt them.
In Karnataka it is estimated that there are about 350 to 400 lorises present in the wild.
According to wildlife groups Huliyaldurga, Kunigal and Devarayanadurga have a healthy number of animals clearly indicating that there is not a big threat from poachers. Chamarajanagar, comprising more than 100 animals, has been afflicted by poaching. Some areas of Bangalore Rural, are estimated to comprise 100 animals while in other areas like Mysore, Maddur, Ramanagaram and Kolar their number ranges between 80 and 100.
But Singh says that it is not going to be an easy task to save these animals. First, they are nocturnal creatures and very hard to find as they spend all their daytime in their tree homes, well hidden from inquisitive humans. Secondly their habitat is scattered and these animals adjust well with several other animals. Therefore, a specific region cannot be allotted as a protected zone for them.
Singh said,"It was not possible as Lorises can live in perfect harmony with several other animals. But, of late, poaching of small and big mammals like elephants has become an issue of serious concern."
Poacher's Delight
It is the eyes of the Loris that is most attractive and it is these that are primarily targeted by poachers. There is a lucrative market for Lorises in Thailand and other South Asian countries. Animals caught in the jungles of Karnataka are therefore illegally trafficked to these parts of the world.
Several superstitious beliefs too revolve around the Slender Loris. people use it for black magic rituals and relish its meat and eyes for its curative properties. Loris' skin too is prized as it is used in making handbags and expensive purses.
"A network of poachers operating between Karnataka and Goa is involved in the trafficking of these primates which are sold for `10,000 each," said an activist.
These harmless primates are in dire need of attention from the right kind of people.
Image via cc/Flickr by rikkis_refuge