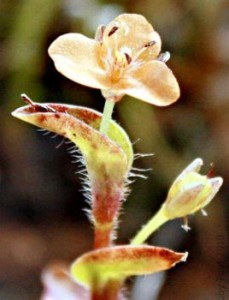 Researchers from the School of Environmental Science of Mahatma Gandhi University in Kottayam, Kerala have discovered a new plant species belonging to the 'Commelinaceae' flora family of the 'Murdannia' genus. As an ode to their teacher, the researchers have named the new plant with golden flower 'Murdannia Satheeshiana'.
A research team from the school headed by K. Sankaran Unni and including Roji Mon P. Thomas and Nisha P. went to the Mathikettan Shola National Park in the Western Ghats. Here on their expedition they discovered a plant species hitherto unobserved.
The plant had little golden flowers and had similar traits as other plants of the 'Commelinaceae'  family which have yellow, golden and blue blossoms.
In India there are 26 species of the plant already identified with 19 of them found in the Western Ghats. The family shows wide variations though in the height, flower colour, seed pattern etc. The highest recorded height of the herb is 10 cm.
The researchers named the plant after former Reader of the School of Environmental Science R. Satheesh who died recently.
Ribert B Faden, a US based research botanist, has already reviewed the report submitted by the researchers and forwarded it to Mark Chase, a botanist in Britain for final authorisation.
The findings have been published in 'Phytotaxa' (Vol 22:41–46 (2011), a global journal.
-Atula Gupta
Article source: Bernama
Related Stories:
Delhi Weed's DNA provides Answers to a Plants Survival