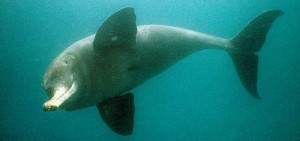 Gangetic Dolphins are being driven out of their larger, natural habitat of Brahmaputra River, to that of the river's tributaries and even facing extinction owing to human interference in the name of activities like sand mining of river beds, fishing and pollution. This has been revealed by an ongoing study initiated jointly by University of Gauhati experts and a marine zoologist from Goa.
There is a growing concern worldwide over the declining population of this national aquatic animal of India. The IUCN (International Union for Conservation of Nature), upgraded their conservation status to 'Endangered' in 1996 from 'vulnerable' in 1991.
The study to ascertain the ecology and conservation status of the fresh water Dolphins and to assess the danger faced by them was initiated jointly by University of Gauhati experts and a marine zoologist from Goa, Manoj Borkar.
The grave danger faced by these animals in the Ganga and Brahmaputra rivers was noted by the Union Ministry of Environment and Forest.
"The Gangetic dolphin is high on the conservation priority and MoEF has elevated it to the status of the national aquatic animal, though the fact itself is little known," Borkar said.
He was distressed by the negative impact on the dolphins and when he suggested that a joint study be undertaken, it was accepted by the Professor of University of Gauhati S.K. Borhakur. The professor recalled how there were lot of Dolphin sightings in Brahmaputra in Gauhati during his childhood, but it was now rare.
Borkar said, now the sightings of Dolphins are more in the tributaries of Brahmaputra, particularly the Kulsi river but are a bare 30 in number. Even by pessimistic estimates, their population all over the world is a pathetic 2000 numbers or even less. Previous studies carried out were not comprehensive though they provided some basic data. Among those who worked on the population status of Dolphins were Dr.Wakit, a wildlife biologist from Assam and Dr.B.C.Chaudhary, also a biologist from wildlife Institute of India.
Borkar said "They worked on enumeration and distribution of dolphins, but not cross cutting themes like impact of changing landscape, development activities and industrialization, cultural practices, habitat fragmentation, and importantly, damming of rivers."
The joint study team of Borkar-Borthakar along with Himu Roy of Gauhati University and Prakash Salelkar, Range forester, Goa also inventoried 32 butterfly species, 25 fish, 56 birds and 68 plants in the Dolphin habitat and neighbouring wetlands.
About River Dolphins
These dolphins are dependent on fresh water habitat like the large Brahmaputra River for their survival. Unlike their marine (salt water) counterparts, fresh water dolphins are smaller in size with pinkish grey shades, dwarfed dorsal fins, eyes being almost a vestige, making them near blind. But they are considered intelligent and emit a whistle like sound to communicate. They have snout like mouth with sharp teeth. They identify their prey by echo-location in the river beds comprising mainly of crustaceans. Hence the extractions of sand in the river beds have greatly affected their habitat.
 Borkar points out within a small stretch of Kulsi River, there are 1500 boats engaged in plundering the river bed for sand. These dolphins are now found in few Indian states; Chambal in Madhya Pradesh, Bijnor in UP, Vikramashila sanctuary in Bihar. Brahmaputra in Assam has restricted population because of habitat encroachments.
As expressed by Borthakur, an ethno botanist, "They are very sensitive to pollution and the spill of sewage and other urban wastes has disturbed their habitat."
Only four species of fresh water Dolphins are found in the world one of them being in India. Depending on their geographical location, they are variously called 'susu', 'sihu' or 'hihu' in India. Three of their relatives are found in Yangtze river in China called Baiji, Indus river in Pakistan where they are called Bhulan and In Amazon river called Boto. Dolphins were formerly State animal of Assam.
The Challenges Ahead
Besides sand quarrying, fishing and pollution, dolphins are captured for their meat. They are also killed for their seemingly medicinal value.
 "People use the fat on baits to lure other fish while folklore has it that its use provides relief from rheumatic and other pains," Borthakur says.
According to him, to educate locals and coax them to give up the 'medicine myth' is not an easy task. Particularly the migrant labour is not willing to forego their 'catch', and resent any move initiated along conservation lines. The study team is planning a conservation drive involving the local population and promote eco-tourism.
"Though conservation of the national asset is a priority, it must be also realized that a blanket ban on development initiatives within is not advisable," Borkar says.
Conservation of these unique river dolphins needs local community initiative as much as a government planned drive.
-Guest Writer
Via: TOI
Related Stories:
India to have its Own Red List of Endangered Species
Poachers Kill Ganga River Dolphin in Bihar