Rao Jodha Desert Rock Park situated at the foothills of the Mehrangarh Fort in the city of Jodhpur is a classic example of how good intentions and hard work always reap rewards. A team of ecologist have restored the natural growing plants of the region and given this desert land a green cover like never before. Visitors keen to see the magnanimous Mehrangarh Fort of Jodhpur now have a new destination to cover that's an ancient treasure too – promising a future to the long lost and forgotten plant species of the desert.
Scorching sun, dry sands and rocky land with bare traces of moisture – The fight for survival for any life form is tough in the Thar. And yet adaptability has allowed life to thrive in such unforgiving and harsh climatic conditions. The formidable and mighty Thar Desert is a unique ecosystem by itself and spreads across Pakistan, Afghanistan, the Middle East and North West India.
Desert Life
The recently inaugurated Rao Jodha Desert Rock Park is situated at the foothills of the Mehrangarh Fort in the city of Jodhpur which lies in the Thar Desert. The hilly area near the fort is made up of a brittle volcanic rock called Rhyolite, which tends to form long vertical columns with flat surfaces.
Not very long ago, this entire area was dotted with Prosopis Juliflora, an invasive shrub native to Mexico, South America and the Caribbean. The shrub is commonly called 'Baavlia' in Marwari and 'Kikar' in Hindi. The Baavlia sends its roots deep into the rocks to procure moisture and all other nutrients it requires. Very little manages to grow along side this species as it denies nutrients to the native flora as well as fauna of a region. In fact this species has been established as a weed in almost all places where it was introduced.
Greening the rocks
Year 2006 saw the inception of a marvellous plan to restore the natural ecology of the region by eradicating the Baavlia invasion, cultivating the native plants & greening the area. Pradip Krishen, a film director turned botanical expert and author of 'Trees of Delhi' was invited by the Mehrangarh Museum Trust to eradicate the Baavlia and reinstate the native plants in the barren patch of land below the fort.
It was a tough task. Cattle and goats do not eat the Baavlia and if cut from ground level, it simply grows back again. The Prosopis Juliflora is resilient and the only way to eliminate it is to uproot it completely from at least 35 cm beneath the rock's surface.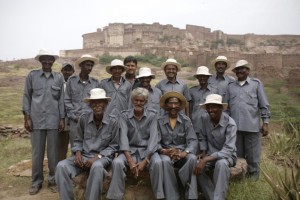 This troublesome task was completed only by seeking the help of the local Khandwalias or traditional rock miners. The bigger question was figuring out whether other plants would actually be able to sustain in such a rocky terrain. The thought prevailed that the plants may be able to find the nutrients where the Baavlia did and so new seeds and saplings were grown in the niches from where the Baavlia had been uprooted. 'Lithophytes' the plants adapted to living in rocky habitats and indigenous to the desert region were planted.
After six years of planning and ceaseless efforts, the project finally bore fruits and in February 2012, the Rao Jodha Desert Rock Park was inaugurated. The Rao Jodha Desert Rock Park now boasts of over 300 species of trees, shrubs, Herbs, climbers, grasses and sedges. Slowly and miraculously the fauna associated with desert vegetation has also started making an appearance.
Rao Jodha Desert Rock Park
Rao Jodha Desert Rock Park is spread across 70 hectares of rocky land surrounding the Mehrangarh Fort. The entrance of the Park is about 800 metres through the Visitors Centre from the main Fort Gate. One can also reach the Park from several other points of entry.
The Visitor's Centre is housed in a historic sixteenth century gateway to the city. Here, one can find an out-door cafe, the ticket counter, a souvenir shop, posters of the native plant life, a ticket counter, parking spot for cars and buses and rest room facilities.
From the Visitors centre one can go on to a stone staircase that leads to a non-functional ancient hand carved aqueduct. The high walls and the narrow passage of the Aqueduct serve as an adventurous walking trail, where one can observe the desert plants one after the other. It is recommended to carry the well-illustrated hand guide of the plants while walking along this trail in order to recognize the various plants and learn more about them. Depending on the season, one will be able to see one or few of the plants in blossom.
At the turn of the Aqueduct, suddenly the vista opens up and one gets a magnificent view of the fort and the surrounding area dotted with various plants.
One quickly learns to appreciate the special reticent beauty of desert with muted colors that is quite unlike the flamboyance of tropical and temperate plants. It is remarkable how these plants have adapted to the harsh desert climate and the scarcity of water and nutrients. One of the important adaptations is "Succulence", that is the plants are able to store water in their tissues like the Cacti. Some plants develop waxy leaves in order to reduce water loss, some have a coat of fine hair on leaves and stems to reflect sunlight and reduce surface temperatures. Some do away with leaves altogether and perform photosynthesis via the stems only. Yet others adapt the simplest of all methods. They have a shortened lifespan and live and flower and bear fruits only during the rains when there is moisture in the soil. They disappear along with the rain leaving behind the seeds that will spring to life when the rains appear next year.
Here is a compact list of some of the wonderful desert trees and shrubs that one will come across at Rao Jodha Desert Rock Park:
1)      Thhor or leafless spurge (Euphorbia caducifolia) – The Thhor is a tall, multi-stemmed succulent and is one of the emblematic plants of the Thar Desert. It has two forms of flowers, mostly bright red and sometimes green and is a host to other plants and small creatures like rodents and lizards.
2)      Kheer Kheemp or Rambling milkweed (Sarcostemma acidum) – This is a rambling shrub with no leaves, smooth jointed branches that perform photosynthesis, intensely fragrant white flowers and is full of white milky latex.
3)      Jungli Pyaaz or Indian squill (Drimia indica) – This is found in rocky or gravelly places from Middle East to Africa and highly esteemed in traditional Ayurvedic medicine.
4)      Bekario or heart-leaf indigo (Indigofera cordifolia) – Bekario is the most widespread ephemeral herb of the Thar desert that springs up with the first rains and covers the sand dunes and gravelly slopes quickly. The herb has very pretty small pea sized red color flowers.
5)      Rohido or the Desert / Marwar Teak (Tecomella undulate) – This is found in sandy plains and valleys of the Marwar region. The tree has bright orange flowers and is prized for its timber which makes one of the best carving woods in India.
6)      Kumatiyo or Gum Arabic tree (Acacia Senegal) – This is a small and thorny tree found in dry rocky hills and gravelly plains and is a source of gum Arabic which is used in processed foods.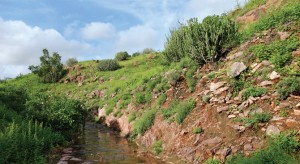 7)      Peeloo or Toothbrush Tree (Salvadora Persica) – A tree with knobby trunks and fleshy leaves, it is found in wastelands and marshy places in Arabia.
8)      Hingoto or Desert Date (Balanites roxburghii) – The Hingoto is small tree with stiff green twigs and thorns with leaves and is found in sand, clay or gravel. Animals like Porcupine, Nilgai and Jackal like to eat its woody pulpy fruit.
9)      Kharo Jal or Olive-leaved Salvadora (Salvadora oleoides) The tree with its gnarled trunk and hollows is found in sandy plains and rocky grounds and is home to many small creatures.
10)   Sargooro or bitter drumstick tree (Moringa concanensis) – This wild desert tree is found in sand dunes and rocky hills and has beautiful pink tinged white flowers and bitter fruit.
11)   Goondi or narrow-leaved sepistan (Cordia gharaf) –  This small tree is found in rocky and sandy areas and bears small orange edible berries.
12)   Bui or Desert Cotton (Aerva javanica) – A very common desert shrub that grows in the sand and has cottony flowers and fruits. Desert people use Bui cotton to stuff their mattresses and pillows.
13)   Bordi or jujube bush (Ziziphus nummularia) – Found in sandy plains, the Bordi is an intensely thorny desert shrub.
14)   Aakado or giant milkweed (Calotropis procera) -The Aakado is a commonly found large desert bush with pretty pink flowers and fruits that yield useful fibre.
15)   Oont Kantalo or globe thistle (Echinops Echinautus) – A thistle found in Sandy and rocky plains, Oont Kantalo at times can grow nearly up to a metre tall and bears tiny blue flowers in a compound head.
Park Timings
March to September – 6:30 AM to 7 PM
October to February – 7:30 AM to 6 PM
Best time to visit – Late July to October when the rain falls and the Desert Ephemerals and grasses come to life.
Entry Charges
Adults – Rs 30
Students – Rs 10
Tips for Travelers
Please wear sturdy shoes for walking across the rocky and sandy terrain.
Do carry sunglasses, sunblock and a hat for protection from the sun and heat.
Wildlife enthusiasts should carry binoculars & cameras for spotting native fauna.
A copy of the Desert plant guide available at the Visitors Centre would be very resourceful.
Now, one can also enjoy breath taking aerial views of the Desert Rock Park and Mehrangarh Fort by taking a guided Zip tour that lasts for a couple of hours.
For more information  visit raojodhapark
More Related Stories,
Tree that helps treat Cancer Pushed Towards Extinction
Tips for Eco-conscious travelers by IUCN
Maharashtra's Biodiversity Revealed
Image via OutlookIndia & raojodhapark