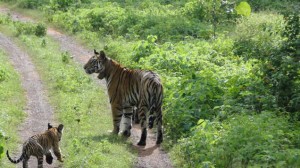 Elevating the number of protected areas in the country and giving the national animal a little more space to roam freely, Kawal Wildlife Sanctuary in Adilabad district of Andhra Pradesh has been officially named as the 42nd Tiger Reserve of the country. The area will not have a core area, a buffer zone and will get funding from the National Tiger Conservation Authority (NTCA) to ensure the tigers have a safe new home.
About 893 sq km of the Kawal wildlife sanctuary has been notified as core area. This is the area where no developmental work is allowed and the forest grounds are strictly protected as habitat for the wild species. Another 1,123 sq km area has been declared buffer zone for the tiger reserve. This is the area where restricted developmental and infrastructural work is allowed.
According to unofficial census, the sanctuary already has 20 tigers. While the central government had already allowed the move of converting Kawal to a protected tiger reserve in June 2011, it took almost a year for the state government to announce the decision.
According to 2010 tiger census, the country has 1706 tigers and though the number of tigers has increased from the last census, the forest cover has shrunk drastically with 22 percent of the forest lost over a span of 5 years.
With the addition of Kawal as a tiger reserve, the forest cover will slightly increase. It will also get ample funding to develop the area into a self sustaining tiger habitat with good prey-predator population.
The state government stated, The main objective for the declaration of Kawal Tiger Reserve is
"to protect, restore, manage and maintain representative biodiversity of Deccan plateau of Sahyadri Mountain Ranges along with ecological processes and conservation of wild gene pool with a focus on Tiger."
Kawal is a Teak (Tectona grandis) and bamboo (Dendrocalmus strictus) forest with 673 other species of plants. It is also abode for a variety of wild animals including 23 insect species, 10 species of amphibians, 34 reptile species, 267 bird species and 75 species of mammals like Royal Bengal Tiger, Gaur, wild dog and Sloth bear.
More Related Stories,
Tiger Numbers Increase in Assam
Armed Commandos to Save the Tiger