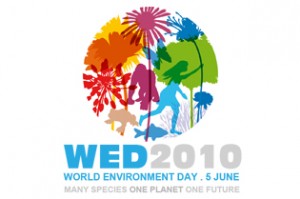 It is 'Destination India' for the World Environment Day 2011 (WED) which falls on June 5th, for "embracing the process of transition to a green economy". This year's theme 'Forests: Nature at your service" emphasises that quality of life and the well being of forests and that of ecosystems are closely knit. For the first time, India ahs been named as the host for the event by the  UNEP-The United Nations Environment Programme. The theme is also in support of United Nations International Year of Forests.
As per UNEP data, tremendous pressure is being exerted on forests where human population is dense and marginal land holders encroach into forest lands, while cultivating. Over grazing too has resulted in desertification. Besides farm community, the Socio Economic needs/issues cause further degradation of Forests.
The Indian Government has taken up the issue to a certain extent by instituting a 'Tree Planting System' whereby degradation of forest land and desertification can be checked. In order to protect agricultural lands, plans are afoot to providing shelter belts and wind breaks. Indian government has also taken the initiative of compensation afforestation programme to encourage people to plant trees and create forest areas.  
The UNEP believes, to conserve and track the health of India's natural resources like plants, animals, water, and critical ecosystems.
Achim Steiner, UNEP Executive Director and UN Under-Secretary General said "Over close to 40 years history of WED, India's cities and communities have been the most active with a myriad of events under taken across the country each and every year-so it is only fitting that this rapidly developing economy is the host in 2011."
Mumbai and Delhi- two of India's most prominent cities as venue will be abuzz with activity to celebrate the WED. It is expected that Indians and people round the world would be inspired to act in preserving the Environment.
The news is encouraging and given the fact that the UNEP believes India is working towards a greener environment, it is only hoped that the event organisation will give a chance for this host country to accelarate the conservation drive.
About World Environment Day
World Environment Day (WED), celebrated annually on June 5, is one of the principal vehicles through which the United Nations raises environmental awareness and enhances political attention and action worldwide. Under the theme "Many Species. One Planet. One Future" WED 2010 celebrated the incredible diversity of life on Earth in support of the 2010 International Year of Biodiversity. 2010 global host was Rwanda – a country of exceptional biodiversity that has made huge strides on environmental protection.
– Atula Gupta
 Image was logo for WED 2010, courtesy unep.org