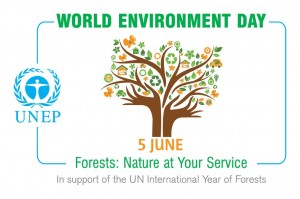 5 June is celebrated as World Environment Day and the nation that is hosting a gala of activities this year as the global host chosen by United Nations is India. This year being dedicated to forests, India is all ready with a number of events highlighting the immediate needs for the environment as well as motivating more people to get involved.
The UN declared 2011 the International Year of Forests with this year's WED theme "Forests: Nature at your Service." It is an effort by United Nations to raise awareness about the forests that are in so many ways responsible for sustenance of life on earth.
The different events planned in India include,
 "Public Dedication of Tree Plantation to India for WED Legacy" in Juanapur, Mehrauli, Delhi.
Biodiversity film festival in Delhi where people can watch films related to environment and conservation. Viewers can later also interact with experts.
World 10K in support of WED will be organized in Bangalore on 5th June where about 25,000 runners will participate and run for the environment.
'World 10K Forest' at the Madiwala Lake complex in Bangalore will be inaugurated by the race organizers.
An organic and forest food celebrity cookout at the ITC Windsor Hotel in Bangalore with goodwill ambassadors Gisele Bundchen, Don Cheadle, bollywood stars Priyanka Chopra and Rahul Bose, as well as Chinese actress Li Bingbing and entrepreneur Wang Shi, will highlight the stars' efforts for conservation.
People can participate in the WED celebration by pledging a green activity online at  http://www.unep.org/wed/aroundtheworld/. When you register your pledge under the name of any of the star celebrities like Priyanka Chopra and Rahul Bose, they on their behalf will plant a tree.
Apart from these a number of organizations, multinationals, schools, colleges and other institutes are coming up with different WED celebrations. You too can be a part of the movement simply by stopping and thinking whether the actions you take every day are environment friendly or causing harm to nature.
Walking instead of using a vehicle, planting a tree, refusing to use plastic bags, saving tap water, switching off electricity when not in use are simple measure by which our Mother earth can be protected.
Celebrate the day everyday and let Mother Nature know you care.
– Atula Gupta
Related Stories:
India to host World Environment Day 2011
87 year old Creates Man made Forest in India