Hyderabad, a city known more today for its Silicon Valley connection has revealed its nature connection too with researchers discovering not one but four new species in the city in the past five years. This includes two spider species, a plant species, a lizard and even the re-discovery of a snake species that was thought to have disappeared from the region.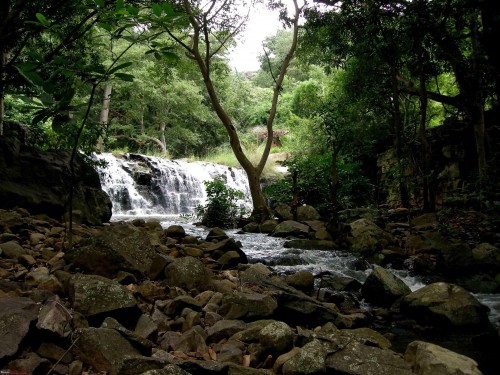 Image courtesy team-bhp
The Greater Municipal Hyderabad Corporation (GHMC) which spans over 650 kilometres has been adding on new members of endemic floral and faunal species in the last five years. Four new flora and faunal species were discovered and a species of snake that had not been sighted for a long time was seen again thus adding more numbers to the existing pool of 2007 endemic species listed in the biodiversity database of GHMC. A team of experts from Osmania University's wildlife biology and taxonomy lab compiled the database in the department of zoology in the year 2012.
Spiders
One of the latest species to be discovered is a spider named Hersilia aadi, a new member of the genus. Hersilia and a species of spider living on tree bark. It was discovered for the first time in this year inside Osmania University campus by a three-member research team led by G B Pravalikha.
"We thought, aadi, meaning 'first', would be a good name for the new discovery," said Pravalikha.
The discovery has been reported in the March 2014 edition of Journal of Threatened Taxa; which has its description as a tree-bark dwelling spider.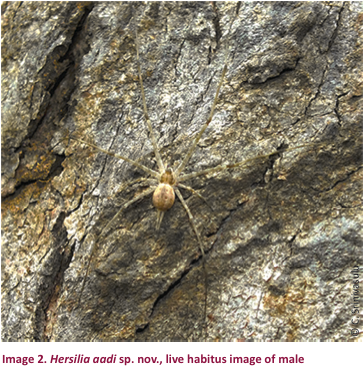 Image courtesy Journal of Threatened Taxa
Spider diversity seems to be in abundance in the region of Hyderabad. Another species of spider was discovered in the green belt of Hyderabad Central University in 2010 and due credit was given to the city in its name as it was termed Murricia hyderabadensis.
Micro-plant
The previous species that was discovered in the Osmania University campus belongs to the plant kingdom. An herb like micro-plant was discovered in 2012 and named after the city of Hyderabad as Ledebouria hyderadensis by researcher Venkat Ramana.
Gecko
In 2009, Hyderabad bore witness to the discovery of a new species of lizard. The discovery was made in the historic premises of Golconda Fort by a scientist, Stephen Mahony and was named Treutler's gecko. It belongs to one of the 11 species of lizards of the Hemidactylus genus which are endemic to the Deccan plateau.
Apart from these four new species discovered, there was one case of rediscovery of a reptile. Coluder bholanathi- a species of snake was sighted and identified at Golconda Fort Complex on February 5, 2012. This species which was discovered in 1976 was spotted again by two researchers, M Seetharamaraju and Prof C Srinivasalu, 36 years later.
"Rediscovering Coluber bholanathi snake species in Hyderabad had been my pet dream for quite a long time, so, I was happy when a live snake was spotted in February, 2012. However, the next month, I was saddened after learning that locals in Rethi Gali area had killed one bholanathi snake," said Prof C Srinivasulu, department of wildlife biology, Osmania University.
The bholanathi snake which was killed is now preserved as a specimen in the Natural Museum of Osmania University.
Given that Hydrabad continues to spring a new species surprise every few years, it would be impertinent that more awareness is raised among locals to value the biodiversity that surrounds them and preserve the rich natural treasure.
More Related Stories,
They Call Themselves the Tree Planters
Only Five Vultures Remain in Andhra Pradesh
Pet Parrot Trade Killing Millions of Birds