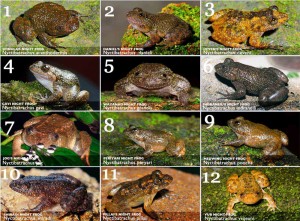 In the dark, dense tropical forests, few men sat stooped and observed the minutest movement. Others pushed rocks and looked carefully under them for traces of life. For days and months, these few trekked the jungle paths and finally found what they were looking for – 12 new species of frogs and 3 that were believed to be extinct.
It is not easy to be out there searching for evidence of a new species, especially if they are small amphibians that love to be in water as much on the ground and many that prefer to come out at night. But biologist Sathyabhama Das Biju of the University of Delhi and his team knew that after the hard work, the rewards would be immense. These dedicated scientists were able to trace 12 new frog species in India and were able to also find three frog species that were believed to be extinct.
"Frogs are extremely important indicators not just of climate change, but also pollutants in the environment," said Biju. "Unfortunately in India, conservation has basically focused on the two most charismatic animals — the elephant and the tiger. For amphibians there is little interest, little funding, and frog research is not easy."
The 12 new species include the meowing night frog, whose croak sounds more like a cat's call, the jog night frog, unique in that both the males and females watch over the eggs, and the Wayanad night frog, which grows to about the size of a baseball or cricket ball.
"It's almost like a monster in the forest floor, a huge animal for a frog, leaping from one rock to another," Biju said.

Among the three rediscovered frog was Coorg night  frog which was last seen 91 years ago.
The discoveries — published in the latest issue of international taxonomy journal Zootaxa — bring the known number of frogs in India to 336. But Biju is sure that this number is only half of what has been discovered. He also added that none of the amphibians of India are being studied further to see their biological importance.
"We first have to find the species, know them and protect them, so that we can study them for their clinical importance," he said.
Biju is one scientist who is showing the importance of every small species in balancing the bigger picture called nature.
Related Stories:
10 New Frog species Discovered in Western Ghats
Increased Frog Leg Demand Pushing Amphibians to Extinction
Five Lost Frog Species Rediscovered
Article reference: sltrib Images via Mongabay