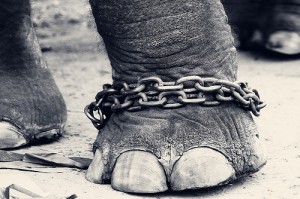 In 2009 the Central Zoo Authority of India banned elephants from being part of zoos or circuses in the country. The mandate was clearly a rushed affair as the authorities did not plan the next step regarding the need to provide a separate shelter for the rescued animals. Now three years later, Elephant Aid International has finally come to the aid of these captive elephants and is about to create India's first Elephant Care and Rehabilitation Centre in Bangalore.
A five year's study by a citizen committee found in 2009 how captive elephants in zoos and circuses all around the nation lived amidst infections, unhealthy environs and a space that hardly allowed them to move about. Based on the study, the CZA made a rule to remove elephants from zoos and circuses. Unfortunately the elephants did not have any other place to go.
Jumbo Problem
While 146 elephants were recognized in dire need of a healthy environment the rescue shelters were scanty. Carol Buckley, co-founder and former director of The Elephant Sanctuary in Tennessee and now founder of Elephant Aid International has now come to their rescue.
 Buckley hopes to build India's first elephant care and rehabilitation centre in Bangalore and is already in the city to chalk out the plan. The 80 hectare space once completed will be the new home for 8 of former zoo elephants. It will also be the model based on which other centres are formed in other parts of the country.
"Once everything is working smoothly, the government will jump on and replicate this effort throughout India," Buckley says.
She also hopes that the rule includes other privately owned elephants including the temple elephants.
When the government first made the mandate they had planned to keep the rescued zoo and circus elephants in government run forest camps. These camps are actually for those wild elephants that become a threat to humans and are given jobs like carrying soldiers on anti-poaching patrols here after they are tamed. But Buckley says that government officials did not realize that the zoo elephants would first need to be rehabilitated to live in wild conditions after having been caged for all those years.
"The elephants in these camps are usually trained and maintained quite brutally, but they're also allowed to stay in the forest most of their lives," Buckley says. "The government assumed that these zoo elephants could be absorbed into forest camps, but camp directors said no, this won't work. There was no recognition that the elephants would need a rehabilitation phase where they would be reconditioned to live in a wild environment and collect their own food."
This is where the rehab centre would come into picture.
Buckley spent the last two years getting government nods for the centre and finally in November last year she was allowed to open the first centre in Bangalore.
Mammoth Task Ahead
The challenge for the organization though has only just started. Buckley and her team are partnering with local NGOs to understand the way things work in India.
"I have a very clear vision about fencing, what elephants should be allowed to do, and how much freedom they need to thrive," she says.
But she has to see the land, look at facilities, deal with contractors and build shade structures, corral areas for medical attention and training and sleeping, a veterinary lab and administrative office. Also provide amenities for the staff. Presently, the site selected already has a 12-hectare facility that will be adapted for some of these needs.
While the infrastructure is a concern, the next big challenge will be to un-train the trainer. Mahouts in India and in most other parts of the world use coercion and metal poking tool like the ankurs to give commands to the elephants. But Burkley is strictly against this practice.
She has devised a technique known as compassionate elephant management technique which she now plans to teach the local mahouts who will be handling the elephants in the centre. Instead of force the technique gives commands to elephants using food as an incentive and lots of praise as positive reinforcement.
"The mahout is like a shepherd," she says. "They will allow the elephants to graze in daytime and then corral them and bring them home at night. You have to have someone to watch out over the animals."
But Buckley is not just concerned about elephants.
"When I started the Elephant Sanctuary in Tennessee, I didn't have to consider much beyond elephant welfare," Buckley says. "But in India, I also need to address human welfare. The programs I have developed have a strong component for education, not just for the public but also addressing the public welfare of the mahouts and their families."
She says that when the mahouts are well provided for, it will inturn help the elephants that are being taken care by these men.
The total cost for the rehab center is estimated at $200,000. Elephant Aid International is accepting donations to help make it a reality.
Related Stories:
Villagers Give Up their Land for Elephants
Finnish woman Set to Become First Woman Mahout
Elephants saved from Being Hit by a Train is Assam
Image via Flickr creative commons Vinoth Chandar