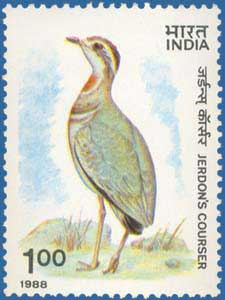 Jerdon's Courser is a nocturnal bird found only in the state of Andhra Pradesh in India. It has been listed among the 50 rarest birds of the world. But sadly the number of this bird is diminishing and in a bid to save it from extinction, the Indian government has now included it in its Integrated Development of Wildlife Habitats' (IDWH) scheme.
The government of Andhra Pradesh had requested the environment minister Jairam Ramesh to consider including the rare bird in its conservation efforts and the minister along with a high level committee took the decision to include the Jerdon's courser as the 17th species protected under the scheme especially created for endangered species.
The other animals included in the IDWH scheme are,
Snow leopards,
Brow antlered deer
Megapode found in Nicobar islands
Asiatic Lions found in Gir,
Bustard (including floricans)
Dolphins
Hangul
Nilgiri tahr
Marine turtles
Dugongs and corals
Edible nest swiftlets
Asian wild buffalo
Vultures
Malabar civet
Great one horned or Indian Rhinoceros
Swamp deer
About the Jerdon's Courser
The Courser was first discovered by Thomas C Jerdon in 1848. It is a restricted range nocturnal bird found only in the Eastern Ghats of India. It was thought to be extinct until it was rediscovered in 1986 at Andhra Pradesh's Sri Lankamaleswara Wildlife Sanctuary. The bird is endemic to scrub jungle habitats in the state and is listed in the Schedule-I of the Wildlife (Protection) Act, 1972.
According to BirdLife International, "The Jerdon's Courser inhabits sparse, thorny and non-thorny scrub-forest and bushes, interspersed with patches of bare ground, in gently undulating, rocky foothills."
Research has also revealed that the bird is very particular about a kind of scrub forest. In recent years due to deforestation and clearance of forest land for farming and other needs, the Jerdon's courser had faced major difficulties in finding a suitable habitat.
The Bombay Natural History Society along with Royal Society For Protection of Birds (RSPB), University of Reading and supported by the Andhra Pradesh Forest Department has been conducting research on the species as well as its habitat since 2000.
But now if efforts have to be made to really save this bird from extinction, the research on its habitat, nature, feeding habits, breeding habits etc. have to be increased. Otherwise future bird lovers may never get to know this rare and mysterious bird.