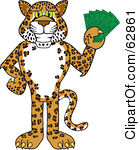 It is a statement that is throwing every wildlife conservationist in a tizzy. The state forest minister of West Bengal said to the press that as West Bengal had wild animals 'in excess' he had a proposal to sell the animals to private owners, who could bid for their favorite animal.
The minister Ananta Ray felt that Bengal had too many leopards, rhinos and elephants. To restrict their population, he even suggested exporting the animals to foreign zoos, and sterilizing them so that they could not increase their population!
The forest department will soon write to the Union forest and environment ministry to seek permission, Ray said.   
"Leopards and elephants have grown in number phenomenally. We have planned three things. They could be sterilized to control their population. We could transfer the excess population from forests to zoos. We also have the option of selling them to private individuals. We have received applications from a few interested parties," he added.
What is really surprising is that a person who has the least idea about wildlife and wildlife protect acts has been elevated to a position where he can even think of such criminal proposals and have the audacity to start planning for the proposed bidding even before the central ministry approves of it.
If the faux pas is really committed, no wildlife including the royal Bengal tiger , bisons and rhinos are safe in Bengal anymore. Ironical as it may sound, perhaps it would really be better if someone else more caring protected these vulnerable species than ministers like Ray.