A stronghold of the endangered Snow Leopard, Hemis National Park lies in Ladakh in India's northern state of Jammu and Kashmir.

SPECIES TO WATCH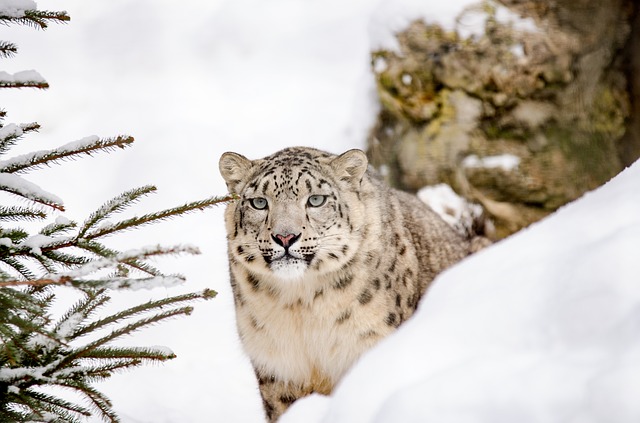 Snow Leopard (Panthera uncia) Endangered
Urial or Shapo (Ovis orientalis vignei ), Vulnerable

Tibetan Wolf (Canis lupus chanco), a subspecies of the Grey Wolf
Bharal (Pesudois nayaur), Least Concern and main prey species for the Snow Leopard
 FIND ON THE MAP

The Park is located between 33º38′-34º11′ N latitudes and 77º00′-77º44′ E longitudes.
It is spread over an area of 4,400 km2, is approximately 10 km from the nearest town, Leh (the capital of Ladakh district), and at altitudes ranging from 3000-6000 m
Read More: Travel, Dachigam National Park, Jammu & Kashmir
IDEAL TIME TO VISIT
Trekking is easiest from mid-June to mid-October, however, the best time for sighting snow leopards is late winter.
THINGS TO KNOW
 ABOUT THE PARK
The park was created in 1981 to protect the Rumbak and Markha cantonments
Through successive notifications, its area increased from 600 sq km to 4,400 sq km in 1990
A number of Tibetan monasteries are located within the park. Of this, the most important is the Hemis Monastery.
CLIMATE
Average summer temperature:    15 °C (59 °F)
Average winter temperature:      −30 °C (−22 °F)
Average precipitation:                 160.5 mm


HABITAT TYPE
Steep rocky ridges, which are largely devoid of vegetation in the higher reaches, is one of the park's major features. Hemis NP lies in a rainshadow area and polar and tundra habitats are a major feature of the park.
FLORA
Alpine and high altitude steppe vegetation is predominant. This includes Juniper, Salix and birch trees in lower altitudes and Anemona, Gentiana and Lloydia plantations in upper reaches.
FAUNA
Hemis is home to 16 species of mammals and 73 species of birds. The park's flagship species is the Snow Leopard, of which it contains over 200 individuals. One of the major strongholds of the big cat is the Rumbak catchment area. Their preybase in Hemis consists of Himalayan goat-antelopes such as the Bharal, Argali, Urial and Asiatic Ibex.  Interestingly, the Urial is found nowhere else in India.
Hemis is also a major stronghold of the Critically Endangered Himalayan Black Bear and the fast-disappearing Tibetan Wolf.
The park's smaller mammal denizens include the Himalayan marmot, the Mountain Weasel and the Himalayan Mouse Hare.
Hemis is home to many rarely seen species of birds; among these are the Golden Eagle, Lammergeier and the Himalayan Griffon. The brown accentor, Red-billed chough, Himalayan snowcock and Fire-fronted serin are just a few of the birds which are not seen anywhere else in India.
Read More: Photographer Clicks Stunning Images Of Snow Leopard With Kill
SAFARI INFORMATION
The park itself lacks motorable roads, however. A number of trekking routes dot the park. Himalayan Homestays provides experienced trekking guides, who are also adept at tracking and spotting wildlife.
ACCOMMODATION
In the recent past, homestays have sprung up at a number of locations throughout the park-Chiling, Kaya, Rumbak, Skyu, Yurutse and Shingo. These charge a very modest fee.
In addition, travellers can camp overnight in most parts of the park.
HOW TO REACH
Hemis is 10 km south of Leh, and a daily bus service plies between the town and the park. Leh can be reached by flight from Delhi, Chandigarh, Srinagar and Jammu.
EXPERT TRAVELER TIPS
Warm clothing needs to be worn at all times. In winter, wearing gloves is a must for warding off frostbite.  
Be prepared for long and arduous treks.
Wildlife sightings will typically occur at large distances; hence a pair of binoculars needs to be carried.
Tickets to flights to and from Leh need to be booked well in advance.
Read More: 4 Reasons Why Climate Change Is Bad For Snow Leopards