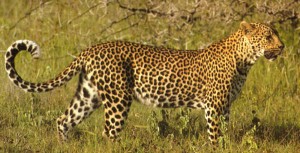 (Shilpi Gemawat shares her experience of volunteering for the Census 2012 at Sanjay Gandhi National Park, Mumbai)
My excitement knew no bounds when I read that Sanjay Gandhi National Park in Mumbai was short of manpower for 2012 census and was inviting volunteers. The census would start from Feb 23rd and go on until the 1st of March the article said.
Immediately, I made few frantic phone calls but much to my dismay, no one at the National Park's office could give me any information about how to volunteer. All I kept getting were new numbers and names of new people to contact. At such times, I did what any normal person would…I blamed the system and complained bitterly about it being totally unorganized.
I had almost given up when out of the blue; I received a call from the Forest department on 22nd Feb. They had my number and called me to inform that the census was starting the next day. I had to reach the main gate of the National Park at 6:00 AM to register. I thanked my lucky stars and there I was the next day at 6:00 AM shivering in the morning chill, yet smiling because I finally made it.
About Sanjay Gandhi National Park
Sanjay Gandhi National Park was previously known as the Borivali National Park. It lies in the northern Mumbai suburb of Borivali and is spread across an area of 104 sq kms. The Park area includes the famous Kanheri caves and the two lakes; Tulsi Lake and Vihar Lake.
Major Flora and Fauna
Leopard is the major carnivore that can be found in the Park. Besides the leopard, one can find the Chital deer, Sambar deer, Porcupine, Palm Civet, Mouse Deer, Rhesus Macaque, Bonnet Macaque, Hanuman Langur, etc. One can view crocodiles in the Tulsi Lake and the forest also houses other reptiles like snakes. The Park is home to more than 250 species of birds too.
The Census
Saturday, 26th Feb 2012 – I reached the National Park at 6:15 AM and interacted with other volunteers. Some of them were members of India's known wildlife conservation organisation, the Bombay Natural History Society (BNHS) but most of them were wildlife lovers just like me.
In a few minutes, everyone was asked to line up outside the window of a nearby cabin. We were made into groups and assigned various areas for the census like Tulsi East, Tulsi West, Kanheri, Mulund etc. My husband and me were part of the team that included forest officer, Mr Vinayak Mohane and his assistant, Raman waiting with a notebook and a pen. He smiled and informed us that we were at Tumnipada and we were going to count the animals there that day. The area was quite near the border so the chances of spotting larger mammals were rare, but in the jungle, one never knows, he added!
Into the Wild
I had visited Sasan Gir National Park a few months earlier and therefore, knew what to expect in a jungle. But in Gir we were tourists sitting in safe safari vehicles, while here we were actually walking inside the forest! Dry and tall Bamboo plants and thorny shrubs lined both sides of the trail, and I hoped I would sight some amazing animals pretty soon.
One of the other volunteers suddenly exclaimed. He had spotted a Jungle Owlet, silhouetted against the rising sun perched on a tall tree. All of us got a good look and enthusiastically started our lists for the census.
After an hour or so of walking inside the forest we reached a water-hole. Suddenly the air was filled with loud 'hoop hoop 'calls of the Hanuman Langur and we all stiffened to listen. Raman picked up a trail in the direction of the calls as we followed him. Soon enough, we spotted a Hanuman Langur high up on a rocky hill ahead. It was too far to photograph without a professional camera and lens although we did get a long shot. The camouflage with the black rocks was also very effective. Can you spot it?
We watched it for a few minutes and updated our Mammal list.
A short while later, we came across leopard scat near a few rocks. Mr Mohane however stated that it was months old and it didn't seem that the creature would appear in those parts now. So we all sighed and moved on.
Another uneventful hour passed as we reached a small pond surrounded by large rocks and trees called Lahu Kund. The air was thick with the loud humming of bees and we were sure there was a massive hive or hives although we couldn't spot it. Lahu Kund was the end point of our trail and we sat down to rest amongst butterflies that hovered over the pond water and flowers.
Suddenly a beautiful bird with long tail feathers flew past us from one tree to the other. It was quickly identified by our fellow volunteers as the Asian Paradise Flycatcher.
It was time to take a u-turn. Suddenly we heard loud calls that was identified by Mr Mohane as the Spotted Deer or the Chital. Raman followed the calls and picked up the trail and we tried to follow him as noiselessly as possible. Soon enough we came across a herd of about eight spotted deer. However they quickly disappeared into a grove where we could not follow them. We were thrilled by this sighting and happily updated our mammal list.
We had by then been walking for four hours. Mr Mohane informed that we had covered a distance of almost eight kilometres to and fro. After walking for another hour, at around 11:30 AM, we finally reached the place where our pick-up vehicle was expected.
Line Transact Method
While we waited Mr. Mohane explained the line transact method of census to us. He showed us a diagram of the method and said that the Park authorities were using this method for the first time.
A transect line is basically a line for ecological measurements. It is a strip of ground along which the ecological measurements, e.g. the number of organisms, are made at regular intervals.  The data which we had collected would be analyzed by using a software specially made for the purpose. It would help determine the density and approximate count of animals in that particular area. Thus by selecting different forest transect lines, the population and density of various animals at different areas could be ascertained apart from finding their numbers.
We spotted a lot of the old world monkeys that is the Bonnet Macaque in the area around which we were waiting for the vehicle. Soon the vehicle arrived and I thanked Mr Mohane and bid him goodbye. The volunteers who had been assigned to the Tulsi area had finally gotten lucky and sighted three leopards.
Forest officers informed us that after the last day of the census – March 1st, it would probably take a couple of weeks to get the final result.
For a wildlife enthusiast it was the best possible way to see the world of animals from the eyes of a forest ranger.  If you get this opportunity in your part of the world, do not miss it for anything.