It might not be the real thing, but for fish swimming in southern Indian coastal waters, the artificial coral reef structures, a project initiated by The Central Marine Fisheries Research Institute (CMFRI) are a good enough place to live and thrive. It is also a reason why fishermen from about 25 villages in Tamil Nadu are happy.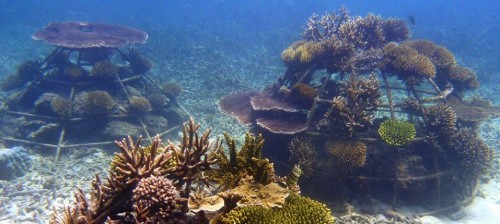 Photo fro representation purpose only.
In 2007, CMFRI initiated a project, costing 2.55 crore rupees funded by the state fisheries department. The project involved the installation of huge fish gathering structures made of porous concrete which resembled coral reefs in shallow waters.
The artificial coral reef thus constructed is the reason behind the smiles of fishermen from about 25 villages in Tamil Nadu as it has ensured a regular good catch and higher income for them. Rajendran from Anichakkuppam on the East Coast Road near Marakkanam admitted that thanks to the artificial structures, he daily manages to earn almost Rs 600. Others from fishing villages across the state agree with him with their earnings being anything from Rs 500 to Rs 1000 in a day.
Why artificial coral reefs
Seasoned fishermen know for a fact that fish often gather around sunken objects like old tyres, rocks or even wreckage of sunken ships on which marine animals and plants come to thrive. Artificial fish habitats created by methods such as dumping tree branches weighed down with rocks as anchors is referred to as Mullam in Tamil and is still carried out in parts of coastal Tamil Nadu. The same theory was applied for the construction of artificial coral reefs to create a habitat in the absence of a natural one.
The CMFRI officers found that certain models gave good results and attracted many species of fish and corals. Three triangular concrete models fitted with some elliptical and some hexagonal pipes were thus created and the porous concrete structures were sunk at a depth of 1015 metres.
In the first three months, algae began to grow on the concrete structures. This led to the arrival of plankton which creates a feeding ground for young fish and larvae. And this in turn attracted several varieties of fish within the next six months.  The ecosystem thus remained constant and this ensured a regular catch through the year for the traditional fishermen venturing out into the sea on catamarans.
As corals, as a species grow very slowly and the establishment of coral colonies inside the structures would have taken several months, the CMFRI officials artificially transplanted corals polyps on to the concrete structures before immersion in shallow waters. This helped in the formation of corals on the artificial structures.
The installation of artificial coral reefs has led to many benefits for the fishermen as well as the environment.  For the fishermen it ensures the availability of fresh and high quality fish at all times, decreases fuel consumption as a result of lesser distance travelled by them and prevents bottom trawling that damages marine habitats badly. The restoration of the marine ecosystem gives a healthy environment for fish, turtles, sea anemones, sea urchins, algae, planktons and other marine life to thrive.
More Related Stories,
Lack of Data Pushing Freshwater Crustaceans to Extinction
Whale Shark Pups Pay the Price of Damaged Nets
Marine Biologists Discover India's First Jellyfish Lake