This piece of news is particularly an interesting one for wildlife enthusiasts who also love their devices and enjoy playing games on them. There's a new gaming app called Wildsense for iPad that lets you be a citizen scientist and have some fun.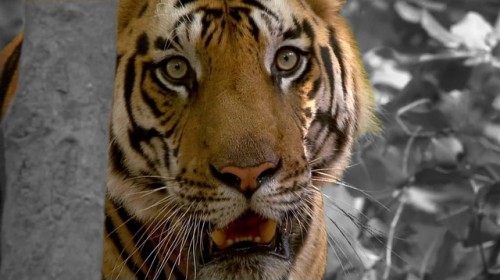 The game loads photos of animals in the wild that are analysed by the player to receive points. This data is then collected and analysed to study animal behaviour including movement and context.
The app has been developed by the Department of Computing at the University of Surrey; the use of which promises to change the way wildlife is monitored in times to come. The target users of this game include anyone with a penchant for games and interest in wild life who could contribute significantly to the identification of wild life and enhance knowledge of animal behavior. It's also kid friendly.
Spotting Tigers
The first version of the app revolves around tigers. Images of the endangered wild cat are sourced through the internet and include numerous camera trap images of the real animal in the forests the ones that have been clicked by people and uploaded on social networking sites.
Once an image appears, there are simple quiz like questions that help spot the tiger, find the number of tigers in the pictures, learn more of the habitat it is living in etc. The software works by combining artificial intelligence with human inputs and techniques of data mining to select suitable images and discard unwanted ones. While the user is playing the game, the data received can help the researchers in adding to their knowledge of the tigers.
Aaron Mason, a PhD student in the Department of Computing, said: "People love to share photos online and the information about wildlife through these channels is vast and potentially very useful. We decided to turn this social data into a game that consolidates information on endangered animals and lets wildlife enthusiasts have a direct impact on welfare in an interactive way.

Image courtesy wildsense.org
"Our initial focus is wild tigers, which is a challenge as it is difficult to distinguish between photos of actual tigers from the vast number of images online. If you type the word 'tiger' in a search engine you get inundated with everything from famous golf players to baseball teams and cuddly toys. Our algorithms sort images by relevance using image metadata, which includes location, usernames and tags, successfully separating images of real tigers in the wild from other images online."
Mike Slee, an award-winning wildlife film maker, said: "Over 35 years of science and wildlife filmmaking I have been passionate about understanding nature and communicating through documentaries the perilous state of some of the earth's creatures and environments. The new Wildsense app from the University of Surrey is one of the most innovative, exciting and positive ways I have seen to make this 'knowledge share' accessible and practical. It is a brilliant beginning for a fresh generation of citizen scientists to have a real input into active wildlife observation and conservation."
India's Endangered Reviews the Wildsense App
The app can be easily downloaded from the App centre, but there is a problem registering. We could register through our facebook account after trying a number of times. After the initial registration hick up however, the game begins smoothly.
The game is relatively simple. A random image appears on the screen which could be that of a tiger's or could be of any other animal. There are a set of questions that are then asked related to the picture. There is no right or wrong answers, and the main challenge is not really whether you answered correctly but whether you answered all the questions related to the image. It can be easily played by children and adults.
While the game can be an interesting tool for wildlife lovers to look and understand tigers better, by giving your feedback related to the images, scientists too get a vast data of information that they can put to good use when trying to know more about the tiger.
It is an app that needs to add more elements of fun and excitement from a user's perspective, but something that has lot of potential in creating a new wave of apps that can mix fun and real knowledge in an interesting manner and give a new way to monitor wildlife.
More Related Stories,
India's Tiger Numbers Rise to 2226
Satpura Reserve Adds 7 New Tiger Cubs
Reference – http://www.wildsense.org/