There is good news for Great Indian Bustard fans. A hatchling was recently seen in the Desert National Park of Rajasthan, after relentless efforts were made in the last few years to increase the population of this critically endangered bird.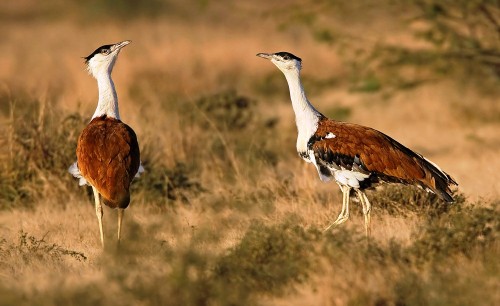 There are just 200 Great Indian Bustards surviving in India today with most of their population restricted in the states of Gujarat, Rajasthan, Madhya Pradesh, Karnataka, Maharashtra and Andhra Pradesh. They are now believed to be extinct in the states of Punjab, Haryana, Orissa, Tamil Nadu and Uttar Pradesh which was once their habitat.
A tall bird with long legs, the Great Indian Bustard (Ardeotis nigriceps) is a grassland species. This means that it needs tall grass habitat and not trees as much to survive. With cities expanding and grasslands being converted to farmlands or residential complexes, the bustard has seen its home get shrunk further and further in the last 70 years.
A Newborn Hope
The Indian government had declared a Species Recovery Program in 2012 to save the bird from extinction. Rajasthan had also declared Project Great Indian Bustard and brought it under the umbrella of Wildlife Protection Act in 2013 at an initial cost of Rs 4.5 crore.
As part of this campaign, the birds were given greater protection and recently 2 pairs were noted to have laid eggs in the Desert National Park enclosure.
Great Indian Bustard, nests on the ground and the female lays one egg at a time. Because of the ease of reach, the eggs and the fledglings often become prey to animals such as feral dogs. The low number of eggs also hampers the chances of large increase in the population of the bird.
That is why the birth of the newborn is not just encouraging news for the species, but also the success of consistent efforts done to save it.
Let's hope there are more chicks to add to the population of this rare bird very soon.
More Related Stories,
Surprise Spotting of Endangered Bird in Dadri Wetlands
Rare Great Indian Bustard Born in the Wild
Bustard Gets a Survival Chance