When Rajeev Ranjan, an enthusiastic bird watcher got off early from work recently and decided to go bird
watching, little did he know about the surprise that nature had in store for him. Much to the delight and amazement of this Greater Noida resident, he got a chance to capture a once in a lifetime shot of the endangered Lesser Florican in Ghaziabad at the Dadri Wetlands.
The Lesser Florican (Sypheotides indicus) belongs to the Bustard family of birds. Prior to this sighting by Rajeev Ranjan, it has been spotted only twice before in the NCR (National Capital Region) in the past century. Whistler, an Englishman first spotted this bird around Delhi in 1914. After that it was not sighted again until 2006 by Bill Harvey, who is a British ornithologist. The Lesser Florican is an endangered species on the International Union for Conservation of Nature (IUCN) list.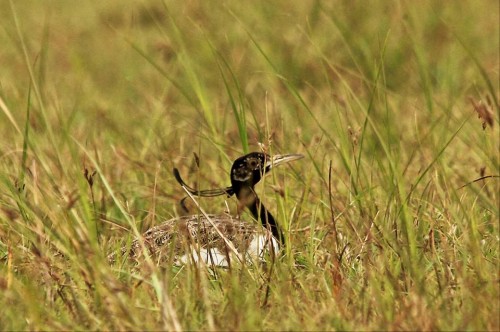 Lesser Florican spotted at Dadri by Rajeev Ranjan. Image may be subject to copyright.
The habitat of the Lesser Florican comprises of dry grasslands interspersed with bushes and scrubs and sometimes they also shelter in crops of cotton and millets. Found in the states of Rajasthan, Gujarat and North West Maharashtra, various challenges like delay in monsoons, degradation of grasslands and over-hunting for food and sport have led to a rapid decline in its numbers. Delhi Birds, which is a group of scientists and bird watchers, have reported that from 1982 to 1989, the population of Lesser Floricans went down by 60%. Official figures say that only 1500 birds are now left in the country.
Anything for love
An attractive bird, the Lesser Florican is known for its beautiful plumage and flamboyant courtship behaviour. The monsoon is the breeding season for this bird. During this time, the male is known to jump upto two metres in the air by vigorously beating its wings to attract a female and gracefully landing on the ground with its wings tucked in. They may perform this feat for even upto 500 times a day while calling out in a frog-like croak. Once a mate is found and after successful breeding, the female lays four to five eggs in a scrape in the ground.
Ranjan's sighting of the Lesser Florican jumping out from the tall grass was lucky as well as astonishing since Delhi or any of the nearby areas are not its breeding grounds. The bird is timid by nature and does not jump out unless it wants to attract a mate or watch out for any predators. Following the news of the rare sighting, crowds of bird watchers visited the wetlands on 19th and 20th July. However no one spotted the elusive bird thereafter.
Conservation strategies
Conservation efforts have been made by the states of Rajasthan and Madhya Pradesh to save this beautiful bird, which is endemic to the Indian subcontinent. In 1983, Rajasthan banned its hunting. In Madhya Pradesh, Sailana and Sardarpur were declared as sanctuaries for this bird.
Project Bustard, a proposal by the Indian Government has been set in motion recently to conserve India's four existing and endangered species of Bustards.
More recently, a team of scientists from WII (Wildlife Institute of India) fitted two male Lesser Floricans satellite transmitters in Ajmer in order to track their migration pattern. This is expected to give information about their movements during the non breeding season which will help to make better conservation plans for this species.
Learn more about the birds threatened status here.
More Related Stories,
Expert Points to Plight of Grassland Birds
Satellite Tags to Help Reveal More About Lesser Floricans
14 Species of Birds on the Verge of Extinction